JizzOnMyGF Review
JizzOnMyGF
Price: $1.00 (1 day access)
Thousands of models are expected to be in the site's facial porn scenes, with a goal to walk home with cum on them.
00000
Jizz On My GF Review
Site Overview
One of the craziest facial porn sites, Jizz on my GF never fails to deliver ample amateur facial porn videos. This facial xxx site launched in 2008 has a lot of juicy facial porn scenes that are submitted by members who are crazy about facials. The fantastic thing about these videos is that the quality is not crappy and it remains consistent all throughout the years.
Design & Features
Upon landing on the site, I was already overwhelmed by the plethora of images that greeted me. Not to mention the large site banner that never fails to capture your attention with a picture of five girls proudly showing off their men's juice on their faces. There are video thumbnails that show multiple ways of how and where to erupt an exploding dick– on your woman's face, breasts, or belly? How about you fill her mouth with this warm juice or let it overflow in her pussy? Jizz on my GF will give you ideas that will make you wonder why you never thought of it before.
There are some thumbnails that are just static images while there are few that are GIFs. Jizz on my GF is from the Amaland network and as expected, the site has a similar layout as the rest of the sites from this network. It is a site with a simple layout and very basic functionalities but very responsive and convenient to use. It can be viewed on the desktop or mobile devices. Navigating the site is also not a problem. In fact, it is very easy to use. The menu bar contains links to different sections of the site such as the homepage and most importantly the main collection area. Aside from the navigation, the site also has a search bar that allows users to look for specific items on the site. It is not as fancy as other sites but it works its wonders.
There are also different sorting options on the site that will help you to manage the contents being displayed on the page. With the huge number of photos and videos on the site, these filters are very efficient and useful. To make things like sorting and searching work on the site, the videos and photos are tagged with certain keywords to complete the sort and search algorithm of the site. You can find these tags in the basic info of the contents. The tags are not only beneficial for the backend wonders of the site, but they also help users to manually identify videos that are related from each other. The site also opens a ground for different user interactions by leaving a comment, rating the videos and adding them to their favorites. This helps to create a series of activities on the site apart from watching the videos.
Girls & Videos
Most of the girls that I noticed in Jizz on my GF are white. However, as I continued to browse through their collection, I saw some black and ethnic women in the spotlight. Their body frames also vary. There are girls with the slender body while there are also girls that are chubby and bulky. Despite all these differences, the girls still have something in common- they are all amateur porn stars. These wannabe porn actresses have all the guts to submit their homemade facial videos and in fairness, they do not disappoint.
The girls all have a common goal and that is to make their boyfriends/partners cum so they can take a shot of these warm load on their faces or anywhere on their body. They do all the nasty things to make them cum over and over again and they do not just limit themselves on handjobs and blowjobs, but they go as far as anal sex and deep penetration just to help their partners build up a massive load. In the end, these girls walk happily with a smudge of their boyfriend's cum on their face- a souvenir of their naughty and wild encounter.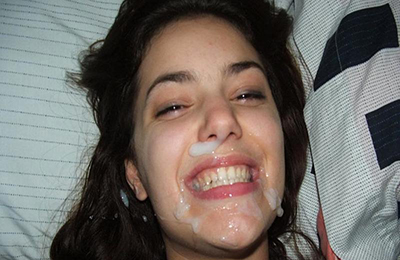 Conclusion
What I like about Jizz on my GF is the authenticity of the videos. Since these are user submitted videos, you can only see real amateur porn here. This is exactly what I saw in the collection. And by amateur porn, I am talking about real reactions- no fake acting and lousy screenplay. The actions are executed naturally. Despite the fact that these videos are homemade, the quality is still decent. I was able to enjoy them even though they are not as crisp and sharp as 4K Ultra HD videos. Lastly, the presentation of the website is also very familiar and it sets the user at ease when navigating it.
The site doesn't exist anymore. If you want similar material check HERE
Check out the other best pay porn sites OR read more on JizzOnMyGF from other popular review sites.