SelenaRosexxx Review
SelenaRosexxx
Price: $4.95 (3 day access)
If you are into Hispanic women and hardcore action, then you will love this porn site. More girls, more videos, and more fun. Two thumbs up for SelenaRoseXXX.
00000
Selena Rose xxx Review
Site Overview
If you are the type of guy who loves to lust over Cuban ladies, then you'll be happy to know that one website will make all of that pent up sexual frustration keel away. Cue in SelenaRoseXXX – a site that features one of the most gorgeous Cuban ladies I have ever seen and watched. Selena Rose is someone you'd see in a modeling catalogue or a magazine but still stick out because of her incredible sex appeal. Well, Miss Rose might not be a fashion model, but she sure is a model of her own: she stars in her very own porn site that features not only the steamiest of sex with various men but some of the most hardcore you'll ever witness as a stay at home dude.
Design & Features
Although a bit confusing once accessed, SelenaRoseXXX will become gradually easier to navigate once you are used to it. As first timers, instead of being instantly directed to SelenaRoseXXX, you'll find yourself in the Digital Playground main site. From there, you'll have to find the 'Girls' section and scroll down to see and access Selena's very own site. From there, it will be fairly easy to find your way around. You'll notice that her site alone is minimalist and the links can be found everywhere you look.
Of course, if you are not a member yet, it will be impossible to browse through the contents. If unsure of your decision, know that a 2-day trial version is up for grabs with a price (of course) but you won't be able to view much or download anything even if you "try" to pay for it. For you to have full access, you'll have to be registered as a member. You'll be able to stream videos online, watch her photos, and probably download her content (for a price, again). Once a member, you are eligible to watch all present videos and photo sets. I'll have you knowing though that even if you are a monthly subscriber to her site, it is impossible to download content unless you pay for it for a few extra bucks.
That aside, streaming is still possible and the Flash player will provide you with high definition viewing. Also, photo sets contain about 100 photos each and you can view them online, as well, using the site's slideshow. Again, you won't be able to download any of these unless you pay extra. Know that all these videos are hardcore and they are very well produced so it wouldn't hurt even if you decide to pay for them. Aside from your membership, registering will grant you access to other sites that are on the same network. They are quite a lot so prepare yourself and your dick for a century's worth of jacking off.
Girls & Videos
Selena Rose is a lovely Cuban girl with waist length hair, naturally hued in rich black. She has a beautiful shade of russet skin which glistens under good lighting. She looks as delicate as a flower and is miniature in size. She has beautiful eyes and she has a radiating smile. Don't let her innocent looks fool you, though: this vixen is a freak in the sheets. With her tight ass plastered in her every video, her perky boobs bouncing and jiggling around every take, and her pink pussy spreading for any cock, this tramp is set to make every man and herself reach the peak of their pent up sexual frustrations. She is as horny as she can be and she will make any man cum for her if she desires so. Selena is what I would describe as a wee lady packing maximum sensuality and horniness. Her physical features only embolden her and boost her status as a tramp.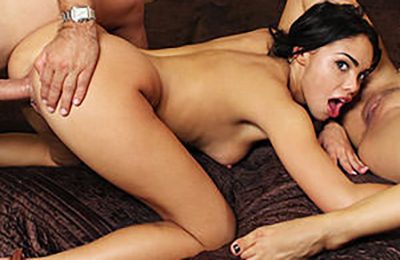 Conclusion
I would also totally recommend SelenaRoseXXX to those who love anything that is being spewed by Digital Playground since they will always stand out due to their good rapport as a network. Although the scenes available in her porn site are strictly only for streaming and downloads are not permitted unless you pay a little bit of extra moolah. That keeps the exclusivity of it all and you do get to watch it in very good quality. Photos are decent and they are pretty crisp and clear and look like they are professionally taken by photographers. I love how easy it is to find my way through the site itself and how vast the content is despite it being focused only on one porn star.
The site is no longer available. If you want similar content go HERE
Back to the best adult pay sites OR read more on SelenaRosexxx.