MagicLegs Review
MagicLegs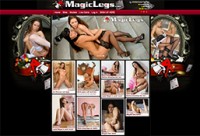 Price: $29.73 (30 days)
The content on Magic Legs is 100% exclusive, therefore, you will not be able to see these videos on any other virtual platform. The Polish and European busty girls bring the necessary spice and excitement. You will love every moment of the action. The best thing about being a member of the site is that you also get access to the bonus collection of 23 sites in total.
00000
Magic Legs Review
Site Overview
The foot fetish is an adult niche that has recently been discovered. In the past, all we knew of adult entertainment was hard cocks and wet pussies, but when the industry discovered that its loyal fans were looking for more than raunchy sexual intercourse between a man and a woman, it was able to tap into other aspects of entertainment. The last thing that we ever thought about was a woman's feet. While we always considered men who loved sucking toes weirdoes, there are foot fetish adult sites that can justify their love for this. Their love for a pair of clean feet is completely understandable (I emphasize on the word clean). If you want to know more about this, you should not surpass what the adult site, Magic Legs, has to offer.
Design & Features
Magic Legs is an amazing site that has an overly simple design. The content is systematically arranged through the pages to ensure that you are well catered for. Once you log in, you will be granted by an amazing slideshow that features all of the models in kinky positions. From the images, you can tell that you will be in for a good treat of action. The preview scenes are right below the slideshow and in them, you will be able to see women in all sorts of hot sexual encounters.
It is clear that the scenes were shot in diverse settings thus, you will be able to appease your eyes with all that is going to be offered. The scenes are tagged with an upload date and a run time. There is also a brief description of the model in question and what she is up to. From the looks of things, it is clear that Magic Legs maintains an active upload schedule. As a member, you have a good amount of content at your disposal.
Girls & Videos
Magic Legs will give you a plethora of girls for you to lust after. They are all gorgeous in their own way. Their blonde or brunette hair, running all the way to their butts and faces that beg you to join in the action. It is clear that they hail from different ethnicities, and the site does a good job of spicing things up for you. The Magic Legs are presented to you in the most compromising positions. The models are filmed in the bathtubs, at the studio and most commonly, in their bedrooms. They masturbate using their hands and a couple of sex toys.
Some of the models bend down to showcase their overly stretched pussies. It is clear that the last thing in their pussies was an oversized cock. Some of them put on a strip show for you. They are already dressed provocatively, thus, you ask yourself why they even wore underwear?! Pun intended. Their thigh-length stockings leave a lot for you to see. As you go through the scenes, your cock will be throbbing hard. There is no way that you can be able to control yourself in the face of such pleasure.
The models are a mix of famous porn stars such as Marysia Tak Tak and amateurs too. Some of them have heavier chests than others. Apart from the masturbation scenes, Magic Legs also features a lot of lesbian encounters. However, most of these encounters are all about Marysia Tak Tak's lesbian escapades. No matter how they serve the action to you, you will be overly delighted to be part of the scenes.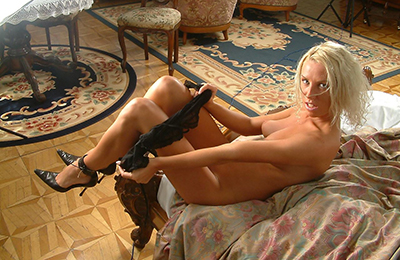 Conclusion
Magic Legs is a combination of class and good entertainment. You are going to appreciate the way the site has invested its time into building an interface that will give you all that you want. It's about time you tapped into your foot fetish fantasy and this site is the way to start.
Look at the other paid porn sites OR enjoy other on MagicLegs