RussianFakeAgent
RussianFakeAgent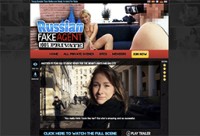 Price: $1.00 (1 day access)
Russian porn sites like Reality porn and they make sure they give the public the greatest of them. Rest assured, this site is no exemption.
00000
Russian Fake Agent review
Site Overview
Some girls out there have a thirsty demeanor when it comes to fame and fortune. Some even do not mind the skeptical things happening right under their very nose, or maybe they just chose to ignore it and go for the gold. Then again, there are some people who enjoy the thought of it. Of course, there are tons of schemers out there who enjoy scamming people with nice words, fruitful words. Words that will sway the other party, and offers that will make it hard for them to say no. This seems to be the case of this exciting popular porn site called RussianFakeAgent. The name itself is rather akin to other scheming porn sites that the Russian porn industry seems to enjoy so much. Throw in a guy in his thirties "scamming" girls to do his bidding; then you have the perfect recipe for a porn site that enjoys the scheming game.
RussianFakeAgent follows the adventure of said "agent" in his journey to swindle the most gorgeous and horny girls in town. Launched in April 2014 by the Private Media Group, this porn site has taken on a different way to promote hardcore sex, reality porn, and porn videos in general. Set in various streets in Russia, this particular porn site has a lot in store and it might seem like your average ordinary casting porn sort of thing, but it is not. Aesthetic wise, this one right here is beautiful in more ways than one. With a lot of things it brings on the table, you might want to sit back, relax, and enjoy the greatness this site is about to offer you.
Design & Features
Organized, orderly, and neat, the site is arranged to make it presentable and relaxing to look at. Visual wise, the site is a beauty. What it offers inside, is even more beautiful. Like most porn sites, the links for this one is found on top of the site. It is found in what looks like a menu bar. It consists of the 'home' button, followed by the 'scenes' button, and then the 'stars' button, the 'sites' button, the 'movies' button, and the 'cams' button. They are pretty explanatory and straightforward so you will know where to go if you feel a little lost along the way. The site offers you various options when it comes to sorting out their content. This includes being able to sort and find videos by dates, updates, titles, and views. Simply click on any of the options found on top of the bevy of hot video thumbnails. From there, the featured videos will be arranged by what you have inadvertently chosen.
You can also make use of the pagination link at the bottom of the site. By far, it is my favorite way of browsing because then I will be able to skim through all the content they have without missing anything. If you are a little impatient, you will be glad to know that there is an advanced search bar that is sitting on top of the sorting options. The site currently has no photo sets but they do feature tons of hi res video caps that are bound to blow your mind. The updates are a little slow but they are still happening. Also, your membership in here will entitle you to access other hardcore porn sites in the same network.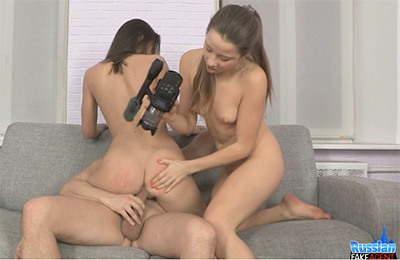 Conclusion
Reality porn has never been this good when it comes to "casting" porn themes. The quantity may need a little improvement, but I guess they are working on it, the quality, on the other hand, is simply amazing. Make sure to check this out and overwhelm yourself by the power of reality porn.
Check out the other paid porn sites OR read more on RussianFakeAgent from other popular review sites.