PandaFuck Review
PandaFuck
Price: $1.00 (1 day access)
The sex scenes here are not the ordinary bodily pleasures that you may be used to. They involve the fresh faces going crazy for whatever lies in between the panda crotch.
00000
Panda Fuck Review
Site Overview
Bizarre sex scenes have always caught our attention. It does not matter if it features a woman getting fucked in the middle of the library or one sucking a cock from a glory hole, such sexual experiences are amazingly had to forget; or even overlook. Just when you think that you have already had enough of these experiences, PandaFuck is a site that will captivate you in more ways than one. This adult site is one that features a man who delights in fucking fresh-faced pussies. The one thing that makes him unique is that he is dressed in a Panda Suit. While a man in a panda suit may not be sexually appealing to everyone, it is every furry lover's dream.
There aren't many adult sites that showcase hotties getting fucked in this manner but PandaFuck has taken pleasure to new heights. All of the scenes over-deliver and you will not be disappointed by what you get to see on this platform. The promise of fun hot videos that show off equally hot girls having sex with pandas is what the site completely adheres to. All of the models are European and as we all know, they are always full of naughty thoughts. Of course, the man cannot be able to fully fuck the beauties while dressed in the suit, therefore, they attach dildos to the crotch to get fucked and pleasured. Prepare your eyes only for the best.
Design & Features
The lack of seriousness that is portrayed in the sex scenes is also portrayed in the site's fun design. On top of being hot, PandaFuck is highly exciting. As soon as you log in, you will immediately be able to enjoy a handful of sites that are recommended for your enjoyment. Navigation is an after breeze. There is nothing to complain about the site's technical aspects. As the collection is limited, you will be able to exhaust it.
The site has a great pagination and all of the flicks are systematically arranged. There are few newly updated scenes that made their way to the site months ago but the fact that there aren't any recent updates should not hinder you from signing up. There are plenty of bonus videos to enjoy. There is a preview link to the flicks and they are also accompanied with good descriptions, ratings, and photo sets. The pictures are crystal clear and they are meant to be easy on the eyes. You can also comment and rate the scenes on this platform.
Girls & Videos
You will make lasting impressions of all the girls that you meet on PandaFuck. They are happy campers, especially because they know all their sexual fantasies would come true. Who knew a man with a Panda suit would have so much to offer? The models have tendencies of flicking their beans and touching themselves seductively. The cock on the panda-suited man is loaded with lots of cum and as soon as they start giving handjobs and blowjobs, it bursts with fake jizz.
The models are kinky and are willing to go out of the box just to get to cloud nine. If they had a choice, they would probably take a one-way ticket there. The models look like your next door neighbour. They are laid back in casual clothes and even some of them can be seen in their pyjamas. A few of them put a lot of emphasis on their makeup while a few of them prefer to be all-natural.
The models are not all-white girls, they are a mix of ethnicities. The site's producers did a great job of picking out girls who are into bizarre sexual acts and put them all together for you here. You will be spending time with Selena, Dayana, Olga and Nancy among other hotties. They get fucked from the outdoors and inside their rooms as well. They do not care who is watching, their ultimate goal is a pleasure at its best. The men do a great job of penetrating their pink pussy walls. All of the models have an average athletic body and from scene to scene, you will not be able to get enough of them. PandaFuck models know a whole lot about consistency.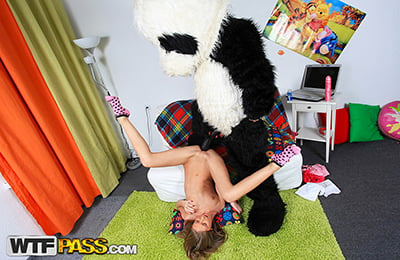 Conclusion
PandaFuck is an adult site unlike any other. The more sight of the girls getting stuffed will turn you on ways that you can never imagine. The site lives up to its promise of being the best entertainment portal. The flicks are captivating and you will handily believe what you are seeing. Yes, it is that good. The combination of hardcore sex and the real of top-notch viewing is most certainly something to look out for. Sign up today and do not get left behind. The action on this site is begging for you.