AssTraffic Review
AssTraffic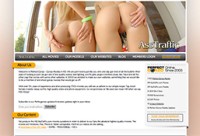 Price: $2.95 (3 day access)
Ass Traffic will show you what pleasure means, so do be sure to check it out, as there will be new content every week.
00000
Ass Traffic Review
Site Overview
Ass Traffic, no matter your preference, will get you horny, as you get to see some of the hottest asses out there, asses that you are unlikely to find elsewhere.
Design & Features
Firstly, if there is one thing that I love about a site, that would be its design. No matter the quality of the content, if a site has a bad design, all of that can fall into oblivion. Ass Traffic has a very user-friendly design, and from top to bottom it is good looking. At the top of the site, you have the site's banner, and below it where you do get to see the site's description, as well as the list of things that you get upon joining. Below, there are the previews, things that you want to see. In larger windows, you get those pictures from the videos, as well as a description of the said video. You get to see three or four previews like that, before you get to the numerous ones, with shorter descriptions. Below them, you have some of the models, listed for your pleasure.
Girls & Videos
But, the site is not just about fucking and sucking, it is also about passion. Even though these are gonzo videos, and they do get straight to the action, the action is full of passion. You do get to see some of the hottest girls around, both the newcomers and some names which you might have heard of before. The girls are indeed hot, but so are the guys, and the things that they do will get you aroused, in no time at all. Just open one video, and the first thing that will happen to you is a pleasure, instant pleasure.

Conclusion
There is so much to see on this site, so many girls, so many asses, so many dicks, whatever you prefer. What is more, the site's bonus content, the other sites, the ones with different content, bring even more to the table.
Check out the other best pay porn sites OR read more on Ass Traffic from other popular review sites.