GrannyGhetto Review
GrannyGhetto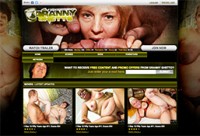 Price: $2.95 (3 day access)
These grannies are hot, that's for sure, and it takes great courage to do porn at their age, but everyone has to make a living and it seems that it's a viral niche in the industry. Otherwise, the site would have gone down earlier.
00000
GrannyGhetto Review
Site Overview
The videos on the GrannyGhetto are exciting though they are mostly meant to entertain a specific kind of men: those who enjoy fucking grannies or who like to watch porn videos of grannies getting fucked hard. If you are reading this, it's quite certain that you were either looking up granny-porn, you were looking for ghetto-porn, whatever that may be. Now, the GrannyGhetto features the first type, so get ready to see some too-mature women getting fresh cocks in their pussy.
Design & Features
The GrannyGhetto has a good tour: you can browse the full list of the videos, and you have the option watch several preview trailers. Concerning the layout and the design, let just say that it's quite average, which isn't a bad thing: the site is easy to use, and loads very fast. In the members' area the same design and layout welcome you, so you don't have to learn to use another site. There are two main navigation tools you will certainly use: the categories selection menu on the left of the page, and the jump-link drop down that takes you to the other sites of the network.
You can also browse the DVDs as one, built up your favorites list, and you can take a look at the ladies' profile page. As for the videos, you have every option you could ask for. The in-browser viewing is quite fun, and thought the best quality is the optimized WebHD, this option is smooth and satisfying. As expected, the downloadable files offer the best quality and though there isn't much of it, you can get some Full-HD flicks for your granny-collection too. Every video is accompanied by a set of photos and video captions, which you can download in zip files if you want.
Girls & Videos
Usually, when we describe girls in porn films, we usually use expressions like tight, cute, busty and fresh. Now, on this site, you get the opposite. The models of the GrannyGhetto are horny, and though their body isn't fresh, they seem to be able to take in all cocks that the directors make them take. You can find here some shapely grandmas, but if you have a thing for matures and BBWs, this site has the ultimate collection for you. It's not necessary to light out, but these models are usually semi-professionals though there might be some among them who built a career in porn after retiring from her normal job. However, we're positive that you didn't saw them too much on any other site.
As far as the videos concerned, you should get ready for some rough rides. It's not easy to do porn with mature women, but as you can see in these flicks, these old cock-mongers are the horniest and most lustful aged cunts you can find around the web. If you are frowning on sex like this, you should not go into the videos' section, because you might see things you wouldn't want to see. However in case you still think that this kind of stuff is for you, then head in, and enjoy the show. What you can see in these videos is heavy and really hard. You will find here some solo flicks, in which the old girls are playing with themselves. The hardest videos feature double penetration and group sex, and these ladies are doing their best to make that man hard; they also eager to get their face or body get covered with man-milk, which is quite good for the skin.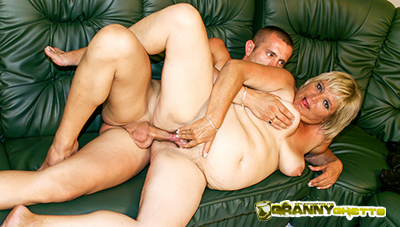 Conclusion
The GrannyGhetto will prove to be a good choice for those visitors who enjoy heavy hardcore porn, and who like to watch old women doing things that less-mature chicks can hardly do. These horny old girls are very bad, and they just get the fuck of their lives in front of the camera, and it's certain that you will enjoy watching these scenes. Those who wish for more should go to the bonus sites' page in the members' zone. There are some other heavy hardcore porn sites included in the membership, which grants you a never-ending flow of excitement.