WankzVR Review
WankzVR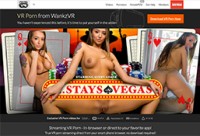 Price: $19.99 (30 days)
VR porn sites such as WankzVR are difficult to come by, but these sites have upped the ante on the way porn is viewed and enjoyed. Such sites are all about experiencing the porn, with technology providing a solution.
00000
Wankz VR Review
Site Overview
A new and novel way of enjoying porn is taking this industry by storm. No, we are not talking about POV, nor are we talking about 3D technology. It is a combination of POV, 3D technology and creating a simulated environment for watching the porn. Yes, we are talking about VR or Virtual Reality Technology. Virtual Reality has upped the way porn is viewed and enjoyed. Well, with VR, you don't view and enjoy porn, you experience porn. There are very few sites that use virtual reality to show their porn sites and one of them is WankzVR, a leader in the virtual reality porn niche.
Design & Features
WankzVR has a unique design and layout and when we reviewed it, we realized that the site was designed in accordance with the latest trends in website designs. Rather than having segregated sections to portray various parts of the site, all important content is shown on the home page. The site is one of the best we have come across. Simple, effective and to the point, the site makes you feel in tune with the porn that is presented. You will love the way six videos are presented in a list form, each spread over a dozen and a half pages.
A black and grey background for these videos makes them stand out. There are six thumbnails on the right, and double images of one thumbnail. You may be intrigued by this double image, but that's what virtual reality gives you. The picture on the right is like watching the image with your left eye closed. The same goes with the image on the left, which is watching it with your right eye closed. When you watch the video on a VR gear, these images merge and you watch a 3D video. These videos have binaural sound, are shot in 180o and possess head tracking technology. These features give you an amazing simulated environment to watch these videos.
Girls & Videos
This is the most eagerly awaited part of this review. Yes, you guessed it right, the bitches and sluts available on this site. Trust us, you will find the most beautiful and sexiest porn stars on this site. In fact, you will find the most famous porn stars here, such as Casey Calvert, Carolina Sweets, Piper Perri, Corinna Blake, Chloe Couture, and many others. These sluts have enthralled porn lovers like you all over the world with their sexy bodies. Is there any way to describe their bodies? No, because they are sex goddesses and describing them is not only difficult but would be an insult to them. Let us stop here, and leave it to your wildest imagination to figure out how beautiful these bitches are.
In the previous section on Designs and Features, we had briefly described the concept of VR and how this is presented on the website. We will now describe a sexy video for your benefit. The video is titled Three's Company. The video has a rendered frames-per-second of 60, is 53 minutes long and was posted on 24th January 2017. Well, when two beautiful and sexy sluts, become horny and naughty, you have no other choice but to sit back and enjoy. Piper Perri is your neighbor and Corinna Blake your wife. Piper visits you with a very naughty intention that she has planned with your wife. In a loose fitting red top and a panty like torn jeans, she ups your sex drive. Your wife joins and when they strip, you have no choice but to fall back and follow your wife's orders. The sluts take turns to lick your dick and give you a sensational blowjob. Supporting each other, Piper and Corinna ride you, giving you the most amazing feeling of having sex with two sluts. The intensity of the sex increases with each stroke, and the bitches make you cum hard. They love to suck and eat your cum, as a reward, for entertaining you with sensational sex.
Conclusion
There are three plans you can opt for, monthly or quarterly or annual. Annual plans are the best and will save you significant money for you. If you sign up now, you will get a 66% discount as part of the site's Extended Sales Event. You also get access to 30+ non-VR sites. What are you waiting for now? Hurry up and sign up, before the Extended Sales Event ends.
Look at the other best premium porn sites OR read more on WankzVR from other popular review sites.