BaDoinkVR Review
BaDoinkVR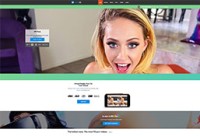 Price: $1.00 (1 day access)
With this state of the art technology called virtual reality goggles, you experience porn on a whole different level.
00000
Ba Doink VR Review
Site Overview
I love how porn has evolved in so many ways these past few years and I love how they apply the latest technology to make most porn sites even better than the usual. Of course, there are still those that remain the way they are, and for some porn networks, they like to add a little flare nowadays to garner more subscribers and members. The newest craze in today's generation is the ever so famous 3D Virtual Reality Goggles. This invention has swept the world off its feet and day by day more people are using this in their games, movies they watch, and a whole lot more. Another thing that uses this contraption is famous porn network BaDoink Cash. Ultimately, they do not use it in all of their porn sites, but they did apply it for the first time with their hit, BaDoinkVR. The VR in BaDoinkVR means virtual reality and you get exactly that.
Design & Features
Take note, immerse is the key word here and it does not come lightly. When we say "immerse" yourself in the 3D VR journey, it means exactly what it means. Feeling like you are being inserted into the action heightens your sensation and it works well for porn. The VR exposure and familiarity will make you feel like you are there and not just a flat feeling in the surface of your screen. Imagine masturbating to that! It will feel like Christmas or your favorite holiday! Despite it looking a bit difficult to understand and to implement, or probably even use, it is just honestly is simple. Upon submitting your membership, considering you already have one, you will have a free starter pack and a free 3D virtual reality goggles, which is practically a Google Cardboard. No, do not worry, it is legit and it is crazy good.
As soon as you have registered yourself, they will immediately process your account and deliver your starter pack and virtual reality goggles in a snap. I got mine after two days which is really good. If you are too excited and want to explore a little more before the arrival of your goggles, you can use a smartphone with a motion detecting sensor. You can download the videos over there and you can watch them as much as you want. If you feel a little loaded and do not mind buying your very own virtual reality goggles, you can always look up Occulus Rift. It is a type of VR goggle that can be used anywhere as long as the program supports it.
BaDoinkVR is definitely supported by this porn site and so you can opt for that. Although a little pricey, you do get to enjoy everything else in even better quality. Not that the free ones do not give out a good one; in fact, the free Google Cardboard you get offers great quality. Using the goggles is easy peasy since it essentially just feels like you are wearing goggles. It covers your eyes and you have a headset along with it. Just simply connect the HDMI cable on your device and you are on your way. There is also another option to make it work but it involves downloading a software. You can download it for free, so try to go for that if you want as well. The site does not support any photo sets but we may get those in the near future. Well, even if we don't, the virtual reality porn they offer us is more than enough.
Girls & Videos
There are tons of girls in the site like Anissa Kate, Yurizan Beltran, Pussy Kat, Tori Black, Nikki Delano, Kylie Paige, Riley Reid, and much more. You will be able to catch them in hardcore, POV action. It will feel like you are the ones they are doing naughty things with and you can feel that you can move around the set. The free goggles (Google Cardboard) will give you a mind-blowing pixel resolution of at least 1920 x 1080 and up. Some videos even reach the 4K. You can download the videos, which is recommended, and there is no download limit. Updates are happening twice or thrice a week, sometimes more. Right now, the site holds up to 100+ videos/scenes that are totally in high definition.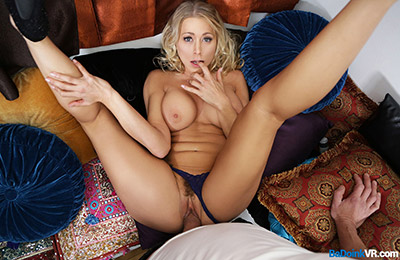 Conclusion
If you are tired of the usual porn you watch and want something exciting and new, then you should go and check BaDoinkVR out. Not only does it give you a fairly new experience, but you will also love getting immersed in here every single second of your life.
Check out the other pay porn