SexAndSubmission
SexAndSubmission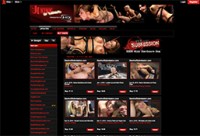 Price: $34.95 (30 days)
Presenting a website that highlights hardcore sex featuring fully submissive women who are into a great deal of being taken care of their dominants, SexAndSubmission is considered to be the site with the best quality porn videos.
00000
Sex And Submission Review
Site Overview
Do you know what makes sex better and more enticing? It's having ropes, belts, ties, and whips. There's nothing more slightly beautiful than a woman willing to surrender her body while looking at her ties and leg spread-eagled! With girls having no control over their bodies and what will happen, it builds up the intensity drastically.
Design & Features
I love how they provide a warning page before directly arriving at the homepage. It's like telling the viewers' that the website contains fervour, but it is entirely up to them to open their minds to a new experience. Upon entering the site, you'll be happy to see that the layout is neat and simple. This makes the porn site even more, efficient compared to other clutter-full designed porn sites. In SexAndSubmission, only the useful and handy buttons are shown on the menu. This makes it a lot handy. They used a magnificent contrast of black for its background and white for the texts. I like how they added a little bit of red to it just for it to avoid looking bland.
They arranged the videos in a convenient manner as well. Having only two major categories – the Featured Shots and the Recent Shoots, it would keep you updated and at the same time informed which videos are considered to be the best among the different choices of the members. This was an effective method making the new members familiar with the videos and making the navigation as easy as having missionary sex.
I like how they have a forum wherein members could pitch in their comments, opinions, and even start a forum stating their stories and own experience connected with BDSM. You'd be entertained by how other members freely share their criticisms for the improvement of the porn site. To make things simpler, they have a list of categories of all the topics included in the forum.
Girls & Videos
Sexy is an understatement when you try to describe these girls. I want to use the words brave, gorgeous, horny and tremendously arousing! If there's anything that these girls are praying for, it's to let dominant make them cum. You'd see a lot of action when it comes to spanking and slapping. You'd see their faces, breasts, and butt cheeks turn red from the pressure and it would look arousing and exciting. These girls have different body types – some are minuscule-boobed and some are graced with big ones, some of them are blonde, some are redheads, some of them have big butts and tattoos on. You could never really fully thank Kink for choosing the hottest and sexiest ladies in town. And thank God for their awesome acting! These aren't just your simple BDSM role-plays.
All of the videos have theatrical and dramatic content! They all have a background story (as it is obviously written in the short description). But I would like to commend how they exerted an enormous amount of effort in trying to think and direct a story for the movie. Watch these girls turn red and perspire! The details are very vivid since SexAndSubmission provides the highest quality of video available. They used the latest recording equipment to capture the best angles, the best shots! They've worked hard just to give their members the best porn watching experience.
Lastly, I am delighted to share that Videos are not only available for unlimited streaming but they are also available for download. They have different video formats to accommodate different video players installed on your device. With over 500 movies, that would total to over 450 hours of watching hardcore mouth-watering sex of women willing to be whipped just to feel the pleasure of being fucked by their dominants.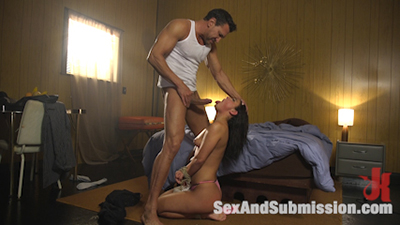 Conclusion
If you are looking for raunchy hardcore action, you better try out SexAndSubmission. It's not your typical BDSM porn site because it offers a lot more than that. With very valuable and unique content, I'm sure it would feed all your carnal hunger for ladies that are submissive and obedient. Watch out how these women scream and moan both for the pleasure of agony and desire to be fucked!