PuroLatinas Review
PuroLatinas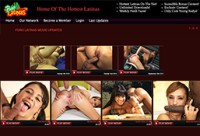 Price: $29.95 (30 days)
There is strong lesbian play in PuroLatinas and they are as erotic and as sensual as any other. The fucking here is intense too and it does not come with just being partners (usually male and female individuals), they also happen to engage in threesomes, foursomes, orgies, and gangbangs.
00000
Puro Latinas Review
Site Overview
PuroLatinas focus on pure Latin women who has a soft spot for sex. These slutty tramps overwhelm this porn site and once you see them start their sexual hustle and bustle, it's hard to look away. Brought to you by ExtremeMovieCash, PuroLatinas was launched in November 2013 with the attempt of giving more exposure to these beautiful, gorgeous, and sexy Latin ladies. Even as they speak, you will hear the luscious and lascivious ring of the Latin language ringing in your ear. It becomes all promiscuous even, coming from these floozies.
Design & Features
PuroLatinas has a very simple website design and it's great that it does seem that way because it lets you focus more on the content rather than the design. The font color does compliment the site as a whole, which adds a little more punch to it. The site comes off as simple looking and very basic, with its straightforwardness when it comes to the navigation system. The links are very easy to locate and very simple to utilize.
Just above of the website, you can easily find the menu tab. The menu tab is where you will be finding the "Home" button, the "Movies" button, the "Network" button, the "Members" button, and the "Latest Update" button. The buttons itself explain everything thoroughly. If you do need a bit by bit account, though, here it is: the home button will let you go back to the home page of the site, the movies button will lead you to the movie index where you can sort out movies by dates, popularity, and ratings. The network button will link you to their mega site, and the member's button is where you will be inputting your username and your password, for you to get in, access, and use all of the cool features. The latest update button will show you the latest and most recent updates they have made. The updates seem to be happening a lot, but some are being rotated, too. I would tell you not to expect too much, but we don't know what's coming up, so keep your fingers crossed. Other than that, they do put in new stuff once in a while, so do not lose hope. The site is still growing and I am sure it is bound to improve sometime soon.
You can do a lot of things now with the scenes: you can rate them from 1 star to 5 stars; you can add them to your favorites, for future reference and easy location. What you cannot do with these videos is to comment on them. Also, tags don't seem to of much help here as there no search bar or any other ways to be searching easily. Anyway, there isn't much content to boot, so there are also not much content tags or filters. No photo sets can be obtained or seen on this site but there are tons of bonus sites that come free with your membership. Simply just click on the ones that can be found at the bottom of the PuroLatinas site. They will prompt you to input your username and password, so just do so each time you move on to a different porn site.
Girls & Videos
These Latin girls are all about sex appeal. They are all gorgeous and beautiful, physically. They love sex and every single thing that has something to do with it. They can't wait till their bodies and their throats are dripping in cum. But cocks aren't the only ones being toyed around here, too. You can watch the intense scenes by streaming them or downloading them. Streaming will give you a decent resolution of 640 x 480, the same thing that you get when you go download and save them on your devices. Streaming will be asking from you an updated version of your Flash player while saving your files in your specific device will only give you one format which is in mp4. No download limit applies to PuroLatinas and you can say that the contents right here are all exclusive. Their great quality videos may be diminutive in amount and their video formats are limited, but each of those 20 minutes for each scene packs a whole lot.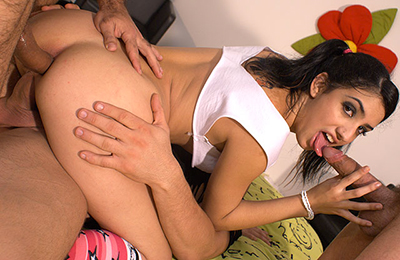 Conclusion
If you do not mind the low quantity count, then I am sure you will come around and like this site. Sure, it may sound like the usual porn site with Latinas on them but they have different contents to be proud of. The updates are happening more frequently so expect a throng of videos every month.