MyLifeInBrazil Review
MyLifeInBrazil
Price: $1.00 (2 day access)
The videos here are professionally made, but the line between actual amateur porn and reality porn is blurry in these videos.
00000
My Life In Brazil Review
Site Overview
The MyLifeInBrazil is a hardcore site, where you can enjoy the videos of a guy who is traveling around in Brazil, and bangs all hot models and semi-professionals who come his way. This collection comes from the workshop of the BangBros so that you can expect nice quality, hardcore sex and some other elements. This series has the ultimate collection of unique and amazing Latinas – there is great booty to be found, and the large breasts of these girls will surely make you want to visit Brazil.
Design & Features
You can't do too much on the tour page of the MyLifeInBrazil. As at many hardcore sites, you can rest your eyes on the large pictures, read some of the promises of the given site. Fortunately, here you can also enjoy trailers which provide the necessary insight on the content. The members' area is also quite simple, though it has some nice browsing options. The search engine is based on names and keywords, and though there are no keyword tags, the flicks all have descriptions so the engine can scan through it. From the main menu, you will be able to reach the bonus content too.
The videos are all available for online streaming, and for downloading. There are several quality choices for the streamed videos and the downloadable ones too. Both options offer MP4 files, and the in-browser player is the regular Flash player. Concerning the speed, we found the download speed and the streaming speed to be quite satisfactory. The picture galleries contain only video captions, so they reflect that quality. For HD videos it's not bad, and you can save these collections in zip files. Actual photo sets are not featured. This Latina-focused niche is really hot; however those who like other ethnic models can find their favorites on the sites the BangBros are featuring them on.
Girls & Videos
The MyLifeInBrazil features a guy called Tony, who is a horny hunk, and he has a fixation on Latinas. That's why he traveled to the ancient home of Latina booty: Brazil. This guy isn't too handsome, but he has a camera and probably lots of cash, so he can get all the girls he wants. He is well-hung that much is true, and he usually lets his inner booty-monster take control and fuck these chicks quite hard. The most spectacular elements of these videos are the girls of course, so let's take a look at them. We all love Latinas because they have a temper, and when you turn them on, they fuck your cock off and don't let go until they cum. Now, Latinas are also favored for their great body: even some of them are skinny, they have a great booty, and there is hardly any Latina who doesn't have a phat juicy ass. This is quite true for their breast too, their cleavage is always large, and if you like big things, then Latinas are what you seek.
You will find it out quite soon, that sometimes this Tony is just lucky to find a girl, and when he is out of luck, he often has fun with pornstars. For example, one scene features Aline Tedesco, who isn't an actual pornstar but she handles a cock so nicely, that she could make a career. These videos are really hot because this guy gives the girls what they need, but sometimes he had to run: angry cousins, fathers are making it hard to find girls in a store's back room. You will find here some nice pickups, Mr. Tony made those girls want to have sex with them. We also really liked that these are not all model-like girls, some of them looks average, and a few chicks even have a bit of belly fat. But hey, that's part of their sex appeal. The videos are full, and they feature the pickup, the action and the running (or leaving), so you get some fun and hardcore content here.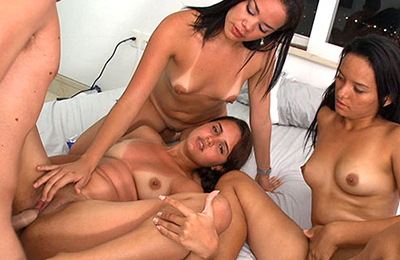 Conclusion
When you enter the site, you will find yourself in front of lots of pictures, showing genuine Latin booty, originating from the home of ass-shaking: Brazil. These guys seem to have a fun time cruising around the country and fucking hot Brazilian Latinas. It's reality porn, so don't believe a word they are saying, but you have to give them credit for the good acting. Though the site itself doesn't offer much of a collection, we're certain that the bonuses will make you consider the membership.
Check out the other best pay porn sites OR read more on My Life In Brazil from other popular review sites.