LatinWildParties Review
LatinWildParties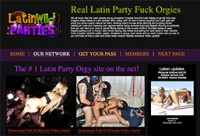 Price: $29.95 (30 days)
Dicks were ridden, pussies were filled, and dicks were pumped and cum was all over the place by the end of the videos.
00000
Latin Wild Parties Review
Site Overview
The Latinas do know how to have a good time, which is probably the reason why they are one of the most sought after females on adult entertainment sites. LatinWildParties is the site that showcases the boldness and the dancing, drinking, music and sex that is in the nature of orgies and the hot Latinas that are involved in them. In this site, you can watch as one pair gets all steamy and then other pairs join in making it a night of fun and a night of a wild orgy. The setting is not only limited to nightclubs and houses but they also do the said activity outdoors.
Design & Features
The site has a simple yet elegant background and it automatically shows you their high-quality videos, it has about 131 videos uploaded and they update the content regularly. The site has about 10,173 high-resolution pictures that they took during the time when the orgy took place and they were able to take a picture of the best angles and best positions. All of the contents are downloadable and their videos can be converted into different formats such as MP3, MP4, WMV, AVI and others. They can be transferred to different devices such as mp3's, mp4's, Ipod's, Ipad's, Iphone's and Android phones.
Once you sign up as a member of the site you will immediately gain access to 80 other adult entertainment sites such as MountainFuckFest, a site that features outdoor sex; CrazyMonsterCock, a site that shows women who takes massive cocks for the first time; BigBreast, a site that features beautiful big breasted women; Deep-Throat, a site that features mouth fucking and hardcore blowjobs; AsianHotBunnies, a site that shows gorgeous Asian women who are into interracial sex and rough sex and many other sites. This site also offers a newsletter subscription for the members; it will enable you to receive notifications regarding the updates on the site.
Girls & Videos
The videos featured on this site are orgies not only filmed indoors but outdoors as well, an example is one of their high-quality videos that were filmed at a camping site. It showed four sets of threesomes and foursomes, the first set had two women and a man. The women kissing passionately as the man was rubbing their wet pussies, one of the two women then took the man's boxers and began giving him a blowjob as the other woman was approached by a man with a coat on. He then lifted his coat and he was sucked by the woman with the yellow underwear, the threesome then became a foursome as the two women had massive cocks to play with and suck.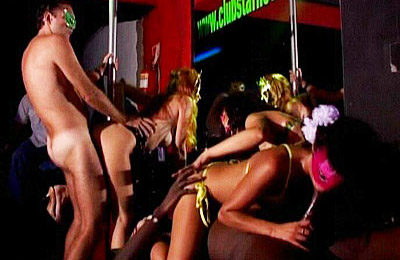 Conclusion
LatinWildParties has the best orgy videos on the internet, not only do they showcase beautiful Latina models, but they also only upload videos that have the best definition. They don't only have orgies indoor and at night but they are brave enough to hold orgies outdoors, in broad daylight. Each video is unique and fresh and watching them would immediately give you the urge to join one yourself.