MrFacial Review
MrFacial
Price: $5.00 (5 day access)
If you love watching brunette, Asian and blonde beauties do whatever it takes to let those jizz unloaded using their lips and tongue, the MrFacial official website is worth considering at the top of your list.
00000
Mr. Facial Review
Site Overview
According to urban dictionaries, facial cum or cum on the face is a sexual act that most man enjoys. It is pleasurable as the sticky man's juice is spewed to the woman's face, this is what MrFacial official site is all about. For those horny dudes out there who can't get enough of such hardcore facial cum scenes, MrFacial brings you the ultimate hardcore facial cum exhibitions featuring the horniest and the most famous porn stars in the adult filming business. There will be lots of cocks of difference sizes and colors and there will be several blowjob techniques that will make your dick spit on its own. There are hundreds of cocks POV videos with extra sloppy blowjob methods and messy as well.
Design & Features
As for the design, I am familiar with the PUBA Network, so it made my exploration too easy. For those of you guys who are going to check the site for the very first time, I would say that that it is fully responsive and navigational. The good thing about Mr. Facial, it includes a free action teaser available as you enter the site. Regardless if you are a member or not, you can watch the video clip over and over again and see the actions. I've got three words for the site and these are "Plain and Simple". There are no waffles, fuss and annoying ads.
The content is dated, and I am expecting that the site will include their latest facial cum scenes in the soonest time. For the membership, you can gain access to more than 35 bonus sites offered by the PUB Network. These bonus sites include the official websites of your favorite porn stars and lots of actions included. Aside from this perk, you can get your daily updates via email, fast download and streaming, and the best of all, live porn star shows.
Girls & Videos
It is a non-stop blowjob action as these pornstars will suck the meat, lick the foreskin and milking. The dudes including Mr. Facial himself are well prepared for the work. They properly shaved their bushes including the balls for the benefit of the viewers and the cock suckers. Speaking of balls, these girls will also eat and suck the dudes' balls and you can hear Mr. Facial himself using the" f" word over and over again because of pleasure.
The funny thing about Mr. Facial's dick is that it's like it has a life of its own. I like watching Tia Tanaka as she sucks and licks Jonni's ball. She makes sure that Jonni will love every inch of her lip and tongue as she sucks the life out of the dude's dick. The video will begin with an interview as Tia will be asked some few questions about her including her hobbies and what are the things she loves the most when being fucked with someone.
Eventually, Jonni will join the scene and show off his hard white dick to Tia. This is where the action starts as Tia licks Jonni's foreskin, ejaculate it a bit one stroke at a time while staring at the camera, and use her blowjob techniques. The video will only last for about 8 minutes and I can't blame the dude since she is excellent. The jizz eventually spewed at Tia's face as she tastes those warm white juice by Jonni. Aside, from blowjobs, there are also boob job actions like Tiffany Mynx and Misti Love. The dudes will no longer have to worry about using tissues as these two bitches will gulp their jizz for good.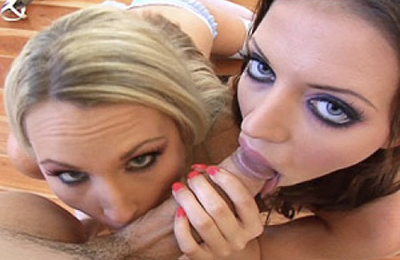 Conclusion
On MrFacial, the videos are hot and sizzling as they put the word "wow" on your face. Moreover, with over than 35 bonus sites available featuring the best porn starlets in the adult filming business, what more could you ask for? The MrFacial site is a must see and highly recommended for horny dudes and girls who wants to learn some new blow job techniques.