MoneyTalks Review
MoneyTalks
Price: $1.00 (2 day access)
On Money Talks you can find here a mix of this and that, meaning the girls are either amateurs or pornstars, and while you may see some actual real-life girls, the chicks doing the hardcore scenes are porn starlets or actual pornstars.
00000
Money Talks Review
Site Overview
On Money Talks you can blame only yourself if you get snapped, kicked and spurned. Lucky for you and all eager porn watchers, the folks at RealityKings are living in an alternate reality, where all girls are jumping on the opportunity to get some extra cash in exchange for sex. It can't be emphasized enough that the sites of the RealityKings are producing reality-porn, which is professional porn, made to look like amateur porn. However it's true, that RealityKings has multiple sites that offer hardcore porn movies that are all user-submitted and these sites are offering money prize for the videos (DareDorm, HornyBirds for example). The
The reality porn is a mixed niche because it gives room to real amateurs and professionals too. The main sites of the RealityKings network are not giving our money for videos, and MoneyTalks is part of the main network. Being that said, it's time to mention the bonuses you get when you join MoneyTalks. To put it short, you get it all, since the membership grants you a mega-pass to the whole network, which means more than 30 sites to browse, and over 9000 videos to watch.
The quality of the videos is increasing, and with the bi-weekly update schedule you always get something new to watch, and while you wait for the next update, you can browse through the vast collection of RealityKings. The MoneyTalks has a very large studio behind it that don't need to resort to store or recycle videos, and everything you can find here is exclusive, and if there are sites featuring these scenes, leave them and join the original site instead.
Design & Features
The members' zone of the MoneyTalks is pretty simple. There is a large heading inside too, and you can see the menu under it, which has multiple options offered to you, to help you find the best porn that the studio can give you. From this menu, you can reach all sites in the network, and you may also browse the models and the RK Cams too.
When you start to browse the scenes you can use some filtering options, and there is a basic search engine built in. After you find a scene that interests you, clicking on its thumbnail will take you to the video's page. Here you have two options: watch the scene in the embedded player without waiting, or save the video to your hard drive, and watch it later. The latest offers you many other options, including quality and format settings: you can save the flicks in MP4 for PC and mobile devices, or in WMV. Each scene offers a photo set, available in zipping format. The MoneyTalks has a mobile-ready site too, so if you have a smartphone or a tablet, you can browse the content easily with it.
Girls & Videos
All chicks are gorgeous, and if though some of them are not amateurs, you can expect them to be awesome. Even the hosts of the 'show' are looking great, and sometimes they participate in the action too. Those girls that seem to be real amateurs are also looking great, and they can handle the situation very well. It's hard to detect whether the videos are scripted or not, but it might just be safe to assume that there are scripted videos, but those that are not pre-written are surely staged, and the random encounters are not so random. Anyway, watching the scenes will make you horny, and they will also offer you some good moments because most of the times there are some funny, silly things happening. The videos mostly start with some flashing, and softer things, but they get on with the nasty stuff pretty soon.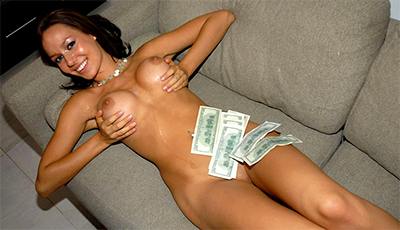 Conclusion
The MoneyTalks has a nice compilation of hardcore porn movies, representing the main core of the reality porn niche very well. The video quality increases as the days go by, and right now a good number of HD scenes are waiting for you. If you don't believe that there are enough videos on MoneyTalks, you should check the large pile of bonus content you receive.