Missogyny Review
Missogyny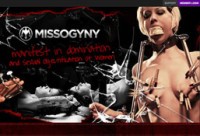 Price: $39.95 (30 days)
It is very easy to navigate and very convenient to use. The bonus sites are treasures to discover and you will surely not find it difficult to switch between these sites because they're all into BDSM porn. For the record, I will definitely recommend this site to my peers.
00000
Missogyny Review
Site Overview
One of the most hardcore BDSM porn sites, Missogyny is filled with hot vixens instructed to do series of kinky actions. This BDSM xxx site from the Fetish network brings us a lot of BDSM hardcore videos in our plates. Everything that you will find here is in high quality so you will surely not regret. If you want to know more about Missogyny, keep reading this BDSM porn site review.
Design & Features
First things first. Missogyny does not have a site of its own. It is not independent of its parent network, the Fetish network so expect to see other sites hanging around. There are around 43 bonus sites that you will see along with Missogyny's contents. Despite all these sites dumped into one massive page, the navigation of the site is not affected though. The navigation is still easy and quick. For starters, you might find it a bit intimidating most especially if you still don't have an idea what to watch. But if you know your porn already, navigating the site is just quick like a breeze.
The site is divided into nine sections– Homepage, Custom videos, Live Shows, Our Videos, Photos, Our Sites, Favorites, Friends, and Discounts. Each of these sections contains brand new surprises for the members. You can easily access these pages through the navigation of the site. Each of these has its corresponding button in the main menu. Right next to the main menu is the search tool where you can search for a model's name or a specific keyword. The site also has a pagination, which allows you to jump next to the other pages in the site. You will also notice the large horizontal banner of the site because it sits on top of the page, taking up most space of the upper fold. It has the network logo and title, and a few advertisements. The homepage is where you can find the latest updates. You will get a bunch of thumbnails from here and there.
The custom videos section is where you can find fresh kinky videos directed by freelance directors who volunteered to direct for Fetish Network. These directors can get to choose the action and the outfit of their models. This awesome section gives an opportunity for aspiring porn directors to showcase their talent and have their porn flicks uploaded on the site. The live show's section is where you can find girls performing real time. Not all the girls in the collection are available for a live show in a certain time frame but you can still look out for the schedule of your favorite model. The 'our videos' section is where you can find 23 videos of hardcore BDSM porn.
Girls & Videos
The models in Missogyny are a bunch of horny sex freaks. They wear different skimpy outfits to get laid. The most popular look is the strap-ons where the models reveal a big percentage of their skin to the camera. The girls come in different beauties here. There are girls with red heads, girls with blonde hair and girls with brunette hair. There are also girls that are busty and girls that are slender. However, regardless of the physical appearance, these girls have a large appetite for sex. What makes the scenes more exciting is the fact that these girls are being led by their lesbian partners. One of them instructs and the other one follows.
You will surely find a lot of kinky actions here to the extent where you can already find girls with their ass sticking to the air– waiting for an unexpected pleasure to kiss their buttcheeks. There are also ass licking, masturbation, dildo fucking and tit sucking. You will also see a lot of threesome or group sex. The scenes are also categorized which makes them easier to find.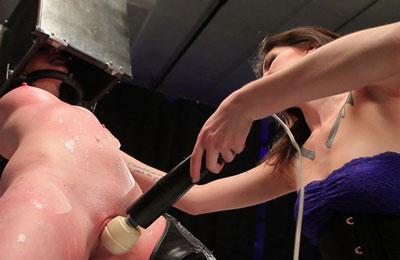 Conclusion
One thing that I like about Missogyny is the fact that it delivers real hardcore videos in high quality. Normally, I don't get to see this type of videos nowadays as some sites are too busy producing a lot of videos without eyeing close attention to the quality of the videos. Another thing that I like is the badass look and feel of the site.