HappyTugs Review
HappyTugs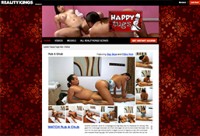 Price: $1.00 (1 day access)
Cute girls with incredible techniques available. They apply oil and rub the backs of the customers, and after a while, let the customers get more comfortable, and get them prepared for some extra special service! Watch them covered in oil then covered in cum!
00000
Happy Tugs Review
Site Overview
Ever seen movies featuring hot masseuse and would say, "damn, I'd like to bang that smokin' hot masseuse!" Well guys, you don't get what you want, but you get something close to that. Time to see hot masseuse eating fat dicks with their mouths, pussies, and asses! It's time for HappyTugs! At HappyTugs, you get to see hot girls, whether pornstars or amateurs, messaging random people.
Design & Features
Once you tune into HappyTugs, you get to see a page which asks you if you want to enter the site, which is rather unnecessary because you came to watch porn! After this unnecessary part is done, you get greeted by a site carpeted with white, black and red that sets you in the mood for some porn, just like how the atmosphere of a massage area gets you in the mood to relax and get some massages. After your mood is set, you get to see what this site is all about. Previews of the videos you can see are then shown as a photoset, where you can see previews of the girl and the steaming hot scenes that you're about to get. A witty title and short description make you even more prepared, just like the oil that's rubbed on you to make you feel better and more relaxed.
You can watch the video by clicking on the button that says "WATCH *insert title*." That's what you get with even just the Home page. Get ready for more as the real service begins! Going to the videos tab does just that. It's there you'll see the HappyTugs scenes, categorized by Recent, Most Viewed and Top Rated. Just click on what makes you interested! You then get to see the video of the girl of your choice get fucked by a random guy that just wants to get a massage, only to get more than what he paid for! Just like you! This is a membership site by the way, and you get more than what you are going to pay for when you apply for membership!
Girls & Videos
There are a variety of girls that you can see on this site, they could be porn stars or simply just amateurs getting on it with random guys. But hell, they're really hot so you can just take a pick on who you want! Also, the thing that I've noticed is that though it wasn't explicitly said or even just implied, most of the girls that are featured are Asians. There's no difference though, they're still so fucking hot that I'd soil my pants just looking at 'em.
If you want to see all of the models used in the scenes though, check out the Models tab, right between the Videos tab and All RealityKings Scenes tab. There you can see the names of the porn models as well as a picture of them in a really hot pose, and then how many videos they were featured in. Clicking on the pictures or the names opens up another page which gives more info about the porn model, which includes their screen name, body measurements, a bit of a description and the videos where they were featured.
I just want to point out standout models though, one pornstar and one amateur. Let's start with the amateur, let's feast our eyes on the hot Asian girl Gina! She was only featured once, but she massages and takes in cock inside her holes like a real pro pornstar! If only she has more scenes, she would be a pornstar herself! Then we have Hazel Rose the super hot and cute pornstar! She's tried it all! From getting banged from the ass to getting creampie or cumshotted on her tits, getting banged in the massage area by a long dong, she's tried it all! Regarding video quality and content, everything's in HD, ramping up to 780p but can you can also go down to 480p if you prefer because of slow internet speeds. Access over 3,100 videos that are regularly updated!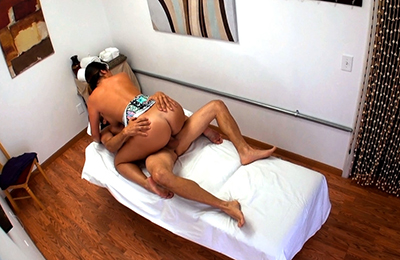 Conclusion
Seriously, this is the dream site for us masseuse lovers. We constantly fantasize getting extra service from the masseuse down the street, well right now you get to see all that. Again, it's HappyTugs, the best porn site you can find when it comes to sex area massage! The hot girls, the area, the mood, all set up making it the best there is. What are you waiting for? Become a member, get ready and get comfy because a masseuse will rodeo her way downtown for your viewing pleasure.
Check out the other pay porn sites OR look at the other reviews of Happy Tugs from other review sites.