TryAnalFisting Review
TryAnalFisting
Price: $29.95 (30 days)
It's not just any regular vaginal-fisting: the girls are getting their tight assholes widened and fisted hard.
00000
Try Anal Fisting Review
Site Overview
The TryAnalFisting is a hardcore porn site, where you can find a selection of lesbian porn videos, with juicy fisting content. The girls here are not going to make you feel soft or anything, because these scenes are sexy, and a bit unsettling for all porn lovers. It's okay that you love cute girls, but do you love when they fist each other in the ass? Well, if that's the thing you like, then ok, explore the collection, however, this porn is meant for only those who like it. The TryAnalFisting launched in 2012, and it was a regularly updating site until 2014. After that year, the updates were rare, and they eventually stopped coming at one point. But, as a heavy hardcore lesbian porn archive, the TryAnalFisting gets you going, and with the different extras, it will keep you interested for a while.
Design & Features
The home page of the TryAnalFisting looks a bit unusual, but it has some neat features, which will make you want to stick around for a time. You are going to be welcomed by a large banner, with one fisted ass, and two cuties lifting their skirt. A bit lower, the real fun tour can begin, as there are several scenes listed, and each of them has a large thumbnail, which is an embedded player window. You can view a few 30 seconds long trailers, but if you know what you are looking at, then these will certainly make you more curious. There is also a list of the available bonus feeds, it's also a good way to explore what you are going to get from the site as a member.
After signing up, you will land on a quite simple page, which follows the design the tour page has, so it's colorful and a bit strange at first. You will also find the menu in there, the site's content listed below that. There is a photo on the left, and the updated listed a bit lower. The site isn't complicated, which is a good thing. Now, the actual content comes in three formats: you can download the videos in HD, usually in WMV or MOV, and there is a Flash video stream for you. Each of the videos comes with a set of pictures. They seem to be mostly video captures, but there seem to be some real HQ photos among them too. You can view them from the members' area, but if you wish, you can download them: multiple quality/size options are available.
Girls & Videos
The girls of the TryAnalFisting are really hot, and they look gorgeous. As far as we could tell, they are mostly Europeans, that's the main reason for the site being such a nasty one. These cuties are naturals, and they seem to enjoy when they can have their ass fisted. Most of the girls have fine, fresh body, and their whole appearance is damned sexy. We believe they are not first-timers, so don't worry about them, they know what they are doing, and most of them have been fucked in the ass for porn videos quite a few times.
Every video here comes from a studio, and they are all taking place in a neat environment. The niche of the scenes is damned nasty, but the videos won't give you uneasy feelings: they are well-lit, quite friendly-looking porn scenes, at least until they don't start the action. The videos are shot in different places, including bedrooms and a gym, so it's also a fine variety to watch out for. So far, the available videos were hard, and they didn't offer anything else than anal fisting. These hotties just get on with it and do it as they please. For juicy buttholes fisted hard, the TryAnalFisting is a good place to visit.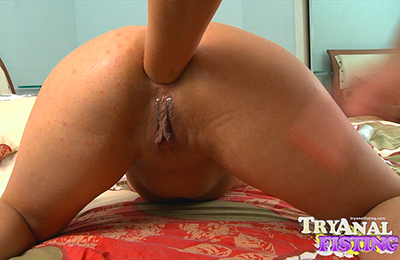 Conclusion
On the TryAnalFisting, you can find a fine selection of porn videos, and they seem to like the things they do. To be sexier, the girls get naked quite soon, kiss a bit then they go straight for the ass. Now, this isn't the kind of lesbian you can watch every day, so we recommend the site if you are looking at anal fisting porn videos. But, with the fine bonuses, the site might interest the regular porn fans too.
Check out the other best pay porn sites OR read more on TryAnalFisting from other popular review sites.