CzechGayCouples Review
CzechGayCouples
Price: $29.95 (30 days)
They offer real amateur gay HD videos. On this great site, you can get to watch awesome scenes you won't easily forget as they stay on your mind.
00000
Czech Gay Couples Review
Site Overview
One of the finest gay porn sites on the internet today, if you are looking for real gay couples fucking. The site offers to bring you gay hardcore videos featuring amateur's couple who are out on the street of Czech to find other gay couples or buddies who would willing fuck for cash. Enjoy watching desperate men who are paid fuck on the street and on a front of a camera.
Design & Features
The site design is average looking yet pleasant to the eyes. The black and white color theme is just right for the site niche. Best of all, the color theme makes the site attractive to look at. By the way, the site interface looks the same as with most Czech GAV sites. If you are familiar Czech sites then you already got the idea on the site design. CzechGayCouples site does not have fancy features like you usually see on other porn sites. But, rest assured you could still have an awesome time going around the whole site. Their simple layout definitely makes it easy to find whatever you want to see.
When you become a member and have logged into the site, you can easily navigate the site with just a few clicks of your mouse as you can already access everything, the videos, and pictures on the homepage. That's not all, you also get a big scene previews, making it easy to select the first video to enjoy. There is even a write-up about the episode that is interesting and amusing to read. They certainly made a right decision in adding the write-ups feature as you can already know what to expect from the video you intend to watch.
Furthermore, this site doesn't have advanced nor there is a basic search tool to make browsing quicker, but it is fine for the layout is organized. CzechGayCouples has a clean and organized layout so finding what you want to see is not an issue. You can browse the whole site is no time at all. That's not all! If you are wondering about the materials quality, you can take advantage of the free tour feature. The free tour is good to use as you can take a peek at the site content then make an informed decision. They also offer instant access to the site so you can get started right away. By the way, it is also easy to become a member here you just need to come up with a username, provide a working email and pick the type of membership you want.
Boys & Videos
CzechGayCouples offers materials that would take you around the Czech street and the unexpected reality about what some people would do for money. In this site, you get to watch a couple with a handheld camera talks to other couples about having sex in exchange for money. And the scene is captured and delivered to you in HD quality. There is a variety of scenes here as you can watch a group of people fucking with everyone, couple fucking on the street or a foursome in some public toilet. There is definitely something for everyone, so you won't be bored watching the content on this site.
The site name is a bit misleading since there is also group action here not just couple fucking. But, who cares about titles anyway, the most important thing is, there are many scenes that involve two guys fucking. Come to think of it! You also get to watch plenty of guys having their dicks service by a pretty handsome guy. Oh yeah! The guys here are mostly good looking and have a well-built body while some of the guys even have tattoos on their arms. But most importantly, all the guys are horny and excited to fuck with people they only just meet. By the way, the guys are all amateurs and definitely not sex workers but just regular guys out on the street to have a nice time.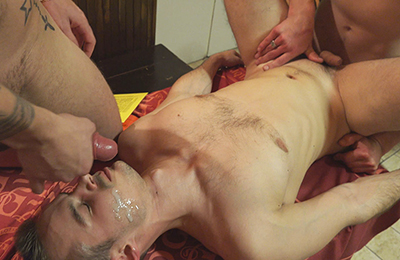 Conclusion
In summary, CzechGayCouples is a good source of HD gay porn. The site has a good interface and content. This site offers to bring a real action by couples who roam the street of Czech to find other couples who would fuck for money. At CzechGayCouples, you can have a nice time watching full-length high-definition videos that combine reality and decent picture. You can feel part of the action when you join this site.
This site no longer receives updates. For similar content take a look HERE
Go to the other best porn paysites OR read more on CzechGayCouples.