40OzBounce Review
40OzBounce
Price: $1.00 (1 day access)
These big booties are waiting for you to explore and this means that you should sign up for membership quickly.
00000
40 Oz Bounce Review
Site Overview
There is no man in the world who does not dream about a big round ass. It does not matter if he wants to spank it or fuck it but often, many men dream of the moment where they will come face to face with that voluptuous booty. Personally, I cannot help but get excited about the idea of a beautiful girl getting jiggly in front of the camera and thankfully, 40OzBounce has lots and lots of streaming action in store for you. The site's name is one that would not ordinarily belong to a porn site, but then again, the PornProsNetwork is one that loves thinking out of the box.
It is common knowledge that white girls only have firm booties, and that is why this is an all-black girl site, with a few exceptions, of course. You know the kind of models who have big ghetto asses that will send you over the edge on a pleasure frenzy. A wise man once sang a song that said big asses were the best thing on earth and he was truly not far away from the truth. If you never knew that there were different types of big asses, then 40OzBounce will enlighten you accordingly. If you are reading this review, then you also love big junk in the trunk and as such, you will feel in sync with the action that is offered on this platform. Now, let's find out more about this amazing site!
Design & Features
40OzBounce is a great site that no longer updates. Even so, this should not hinder you from signing up for the action. You will first see that newly added scenes, which date back to 2007. On the video page, you will have the option to download the flicks in WMV and MPG format. The resolution from the streaming flash player is quite different from what you get from the downloaded scenes. However, you have nothing to worry about, as the general quality of all the flicks is great. The flicks are subdivided into clips which allow you to enjoy them accordingly. You will get a link that will let you access 20+ bonus sites that come with the membership. The galleries come with 340 amazing pictures each. Imagine just how much eye candy you will be able to get from this platform. It is quite easy to get around the site and you will not encounter any complications when surfing and navigating.
Girls & Videos
The one thing that you will not be able to surpass. Luckily for you, members of the site have this portal at his disposal. There is no doubt that you will have a blast. The models are gorgeous but their "assets" will automatically distract you from their faces. In fact, the last thing you will be looking at is the faces that you will meet here. When you first lay your eyes on them, you will want them to be your very personal nasty booty calls, whenever you need them. However, you may want to butt-dial endlessly because the chances that these assets would be left alone for too long are not many. The irresistible sexiness here will make your quest for pleasure worth it. The models bring enjoyment at its best. If you are an ass man, you will almost feel like you are in heaven and, even if you are boob-man, the asses here have the potential to assimilate you. As you will find out, this is not another boring booty site.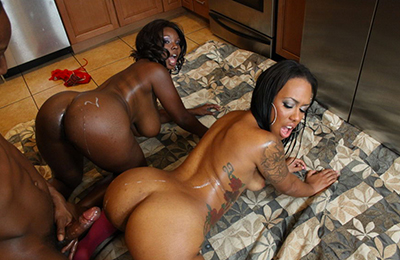 Conclusion
40OzBounce is the site to beat. The girls here exceed your expectations and they'd do everything to bring enjoyment at its best. They put up their asses and want them to be invaded by you. This is not another of those sites that will overwhelm you with boring movies, 40OzBounce will treat you to the kind of action that you have always hoped for. Do not be afraid to take the plunge and sign up for this erotic journey. This site will simply not disappoint you in any way, shape or form.