Alljapanesepass Review
AllJapanesePass Network
Price: $1.00 (3 day access)
Alljapanesepass is considered one of the best asian porn network. Visiting this network it will be simple to find exciting videos and the most popular asian pornstars.
00000
All Japanese Pass Network Review
Site Overview
Japanese are known to be one of the biggest porn filmmakers and by far one of the most successful also. It's quite obvious that Japanese porn has a broad range of audience not just in Asian countries but also from all over the world. One of the reasons why Japanese porn is patronized is because of their array of cute girls who usually dress up while getting into action. Aside from that, Japanese porn also has a distinct characteristic that makes them easily recognizable among the other types of porn like American porn. If this is your type of porn films, you'll most likely go nuts when you visit All Japanese Pass. All Japanese Pass is a mega-site which contains a collection of some other subsites— the biggest of them is Idols 69. It is like 22 sites in one which is more convenient rather than jumping from one site to another to get to your favorite videos.
Design & Features
Since this is a mega-site, one thing that must be looked into is the navigation of the site when switching from one site to another. For All Japanese Pass, the user interface is similar across all the sites and a good way to stitch the sites altogether. This avoids confusion to the users when exploring the site and it adds to a better user experience. The search bar is also helpful to those users who don't want to browse on the individual sites. All you have to do is to search for a keyword which can describe a particular video that you are looking for. You can also search for the name of your favorite pornstar.
The website has a decent layout, which leaves room for the videos to be noticed immediately. You can also see the date, title and a thumbnail of the videos. You can stream the videos or you can download them. When streaming, you'll notice that the video player has nice features. It can let you skip to the most interesting parts of the video through the thumbnails. It also has a description of the video so from here, you can say whether the scene will be of interest to you or not. You can also like or dislike the video. Lastly, you can also quickly check the featured models on the video on the right side of the player. If you want to download, you can choose whether to save it as an MP4 or AVI format. These videos can be downloaded in 720 x 840 at 2200kbps but there are some with 1920 x 1080 resolution and at 5000k.
Girls & Videos
There is a total of 2694 Japanese authentic models featured in each video of the All Japanese Pass porn website. There's a selection of amateur to professional models that you can choose from. The girls' body types also vary from one another. Most of them are slender in size while some are just average. Some women have big asses while some are just the opposite. Most of them also have hairy pussies although there are also a few of them that are shaved.
Some of the girls that you should keep an eye are Maria Ozawa, a famous Asian porn star and some other rising stars in Asian pornography. In some videos, you can see that the private parts are censored. However, you can still find a good amount of videos which are not restricted. You can see girls doing themselves, having straight sex and lesbian sex. There are hardcore, softcore, and fetish scenes. For the mast scenes, you can see these beautiful girls use their fingers, high-end sex toys, dildos and vibrators to reach an orgasm. There are scenes where you can see them rubbing their bodies, playing with their boobs and performing oral sex. You can also hear soft music playing in the background of most videos.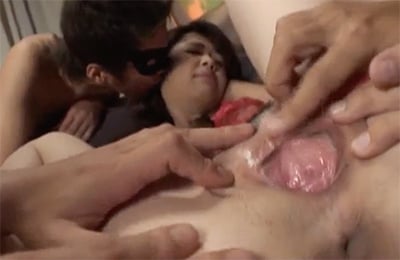 Conclusion
I can say that the All Japanese Pass porn website is doing a good job in bringing different types of Japanese porn on the World Wide Web. Considering a large number of videos on the site, you probably couldn't watch all of them that's why having some of the videos censored is not a problem. The membership fee is also inexpensive that's why you shouldn't miss the chance to join the entourage of the biggest Japanese porn site.
Check out the other best porn paysites OR read more on AllJapanesePass Network from other popular review sites.