18Asianz Review
18Asianz
Price: $1.00 (2 day access)
If you are looking for nice fresh pussies getting rummaged, 18Asianz should be and must be on your bookmark list.
00000
18Asianz Review
Site Overview
A busty Japanese secretary, an athletic Chinese cutie or an exquisite Filipina beauty, if you are in search for a hot tight Asian pussy 18Asianz is the one website you must see. The porn website 18Asianz has a massive collection of dick raising Asian sex scenes. From hotties in classic maid outfits to sexy ladies in dreamy nurse uniforms, this site surely gives life to your Oriental fantasies.
Design & Features
The overall design of the website is not something out of the fancy book. The whole page just lies in a clean white and patterned background, while the banner is a dark fiery flag with its website name. The menu button links are quite notable and are lined up just below the banner in a straight line fashion. They are tactfully right in the center of the page. There's no need to think of a confusing keyword to search because all the videos are streamlined in a grid list form and paginated. The links for the videos are displayed in medium sized thumbnails with stills taken from the videos themselves. The thumbnails give you a little taste of what the video is about so it is easy to choose what you may want to watch.
The texts and the buttons on the website are easy to read in gallant black font color varying in sizes and weight depending on what they represent. It's easy to click on a video and just get back to where you were before if your choice wasn't exciting enough because of the fast loading of the streams and the pages. And if you like to have your nice Asian collection on the go, the downloadable videos are all mobile ready, so you can take them where you want on your mobile devices.
Girls & Videos
As it is an Asian porn site, it is expected to see tons of Oriental chicks, from elegant Koreans, feisty Japanese beauties to Filipina cuties. Some of the videos on the website also showcase familiar faces like Amai Liu, Asa Akira, and Aki Tomosaki. The lovely amateurs from all around Asia can also be found on 18asianz.
Buy one take one? Who does not love a good deal like that? Especially if it's with these lovely sisters of Asian descent. The clip begins as an interview of the sisters talking about a topic we all love to hear, sex escapades and their favorite positions. The friendly cameraman starts to get a little too close with both of them and soon enough, they're all undressed and naked. Our lucky guy enjoys a good blowjob from them at the same time. What a scene, two pretty ladies, fighting over your hard dick with their tongues. The movie intensifies as he fucks the other, and then the other and back to the other. He finishes with making a hot mess out of their faces.
In the next video, the model seems to be looking for something harder than a full on hard dick. She teases the guy with her tongue and stroking his dick between her beautiful breasts. The guy looks as if he had enough of all those teasing and begins his counter attack of licking and groping. With the help of her tools, he began pleasuring her wet anticipating cunt. He then proceeds to finger her. Even that did not seem to please her as much as she wanted, so he tries it with his fist. And at last that, magic. She finishes with a burst of squirt all over the guy's arm.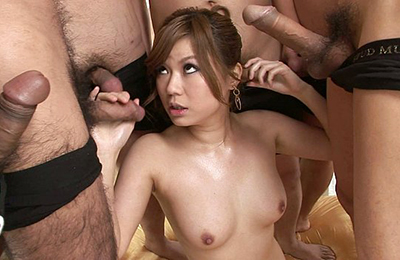 Conclusion
And easily, this has been one of my favorite websites to visit when my heart pumps excess libido down towards my manhood. It has colossal playlists of Asian lovelies getting their nice fresh pussies licked and fucked hard. The site boasts a daily update, so there is no shortage of pure Asian porn if the thousands in their collection as of today is not enough for you.
Back to the other adult pay sites OR go to other reviews about 18Asianz.