SweetAssAngels Review
SweetAssAngels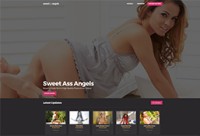 Price: $29.99 (30 days)
There is no doubt about that SweetAssAngels are exactly what you need to add that sweetness in your life. There are all kinds of amateurs here, including tattooed beauties and those who embrace the emo look.
00000
Sweet Ass Angels Review
Site Overview
Do you enjoy a good cum chat? Do you go crazy for a sexy cam girl and all of her equally sexy shenanigans on screen? If the answer to both of these questions is 'yes', then this review is most certainly meant for you. SweetAssAngels is the amateur girl's site to boast of. It is in-depth as well as amazingly entertaining, leaving you without any option but to swear by the models that you will meet here. The site is all about a bevy of glamor beauties who enjoy seducing you in every way that they can. They put on a good show for you by playing with each other and engaging in fun activities all that are meant for your viewing enjoyment. The site is still fairly new but it will meet you at your point of pleasure.
Design & Features
SweetAssAngels has a responsive design that can be enjoyed perfectly either on a desktop, tablet or mobile phone. The adult site is just like any other good one, greeting you with pictures of sexy models and letting you know about all of your sign up benefits. At this point, you will already be intrigued by what the platform has to offer. There is a great combination of image and text but of course, the images and scenes dominate.
The action is crystal clear and as such, you do not necessarily have to worry about quality. The content is evenly spread out, letting you know that you will never lack for great entertainment even before you get started. Clearly, the scenes boast of high resolution and if you are the kind who loves uncensored action, then you will have a great time on SweetAssAngels. From time to time, you will be able to get your hands on the new updates and as such, get even more reason to sign up for the collection or log back into the platform.
The site is drenched in thousands of high-resolution photos, countless hours of great video viewing and even weekly live member chats. The site is also mobile friendly and can be accessed accordingly from a handset. This means that porn lovers on the move will always have a great time. All of the flicks are introduced but not with lengthy descriptions. You will find that the action is simply self-explanatory. However, the tour treatment is epic and ensures that you will get to know exactly what SweetAssAngels has for you.
Girls & Videos
Needless to say that the models on SweetAssAngels are truly beautiful, seductive and sexy. They may be amateurs, but they know exactly what you need and dish it out accordingly. Do not let their sweet angelic faces fool you, they have a lot of naughtiness under their sleeves. It is almost as if they are trained on needlessly satisfying you. Do not be afraid of delighting in all of the sexiness that they serve because pleasure only comes once in a lifetime. They know that putting on angelic wings and a pair of six-inch heels will make you go crazy for them and needless to say, it does.
These are your next door girls. Of course they do seem like innocent cuties when they meet you but as they say, looks are deceiving. SweetAssAngels has done a great job of ensuring that you will be clouded with utmost fulfillment. Some of the SweetAssAngels models embrace their natural looks while others enhance them through plastic surgery. Either way, they will motivate you to join them and discover what utmost pleasure really is. Do not hold back, if they turn you on then you can go on and masturbate. There are girls excited to pleasure you in ways unimaginable. They cast the kind of spell on you that you would never want to break free from.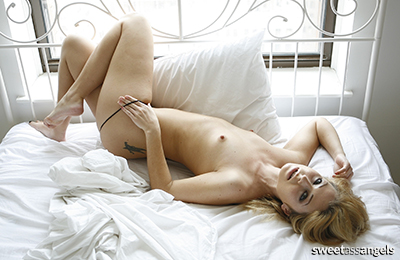 Conclusion
SweetAssAngels is a porn site that will not fail you. The site is perfect in its own right. If you are looking for hardcore content, then the site may not meet your needs because it is particularly made for the softcore lovers. Action on the pages is exactly in your wheelhouse and as such, you will never be under satisfied. You will find fulfillment on SweetAssAngel even when you least expect it. The site is perfect for guys who want to jerk off to real girls who are on the internet.