NylonSweeties Review
NylonSweeties
Price: $1.00 (2 day access)
The NylonSweeties is one of those sites you seek when you are looking for a bit of fetish and some very hot sex. In case you are here, you are probably searching for hardcore sex, nylons and amateur girls.
00000
Nylon Sweeties Review
Site Overview
On the NylonSweeties a large, neat porn video collection is yours to browse, featuring hard sex, hot girls and a sexy fetish: legs and nylons. These scenes have a lot to show you, and in case you enjoy watching cute chicks as they get banged while they are not totally naked – they have their nylon stockings on – you will find this collection a satisfying one. Hardcore sex is always good to watch, and when it has fetish elements included it's even better.
Design & Features
There is no doubt, the site has a great looking tour page. There are large and sharp pictures of gorgeous girls all over it, listed with a short description. This type of tour is usually not the one we like, but we are sure that what we see is what we get.
However, the members' area is just too simple. There are no searching or filtering options, and the menu you can use is a text one, so no actual buttons there. Nevertheless, it loads fast as lightning, and you can browse the content comfortably enough.
From the menu you can reach out to the network sites, along with the store, where you can order the DVDs the scenes come from. But who would need DVDs, when you can save the videos yourself? With no limits to download, you can grab and keep the whole collection if you want. However, those who like to watch porn just for fun should use the Flash-player. One thing is certain: the best quality can be obtained by downloading these videos. Every video has a set of photos attached to it. These are not captions, but actual photos of 1600×1200 resolution. Due to their size a slow connection can make it troubling to view, but fortunately, you can save them in zip files.
Girls & Videos
The NylonSweeties is a fine fetish portal with hot chicks and nice nylons on their body. If you have a fixation on girls who just turned adults, or you have a nylon stockings fetish, then this website is one you should check. We are certain that the girls here are Europeans. Not just their names like Sasha or Renee tell this, but the fact that on the first picture of the site you can see the girl getting a cock in her ass. Don't get it wrong though, Europeans also prefer pussy, but there are areas where the porn videos always feature anal penetration.
The girls you can see in these flicks are cute, semi-professional models. We are certain that we saw them at other porn sites (the girls, not the videos), so they probably have a career and they are considered professionals nowadays. What we loved about these girls are the following: they have a natural appearance – no fake tits, lips or ass. They are cute – not just their body looks fantastic, but their face is good to look at too, and their smile can melt any hard man's heart. As far as we could tell, the girls of the site are all Caucasians, so don't expect here ethnicities.
Now, let's see these videos. First, and foremost, you have to know that these are studio-made flicks, however they come in a semi-professional looking form. We are positive that you are going to love them, if for nothing else then for the hot chicks on the stage. In difference with other nylon-focused sites, this portal features hardcore sex too, so it's not just about showing off, and masturbating. The girls get their legs spread, and fucked hard and nicely. Naturally, the models are showing their nice accessories for the camera, and many videos feature a bit of worshipping too, so the site offers some fetish too.
These stockings remain on the girls for the whole time, and this lowers the numbers of positions they can take. You will see the girls getting banged in doggy-style some strange-looking missionary and spoon positions are also featured. Most of the videos offer similar actions: the girls suck their guy's cock, gets their pussy licked, then go on with the hardcore – they get their pussy and usually their butthole fucked too. Full scenarios are featured in these videos, so they always end with cumshots, and sometimes the stuff goes to the nylons.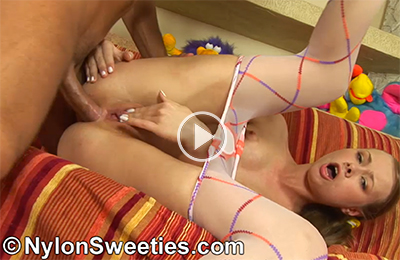 Conclusion
If you love fetish and fresh girls you couldn't find a better place to start with. Since you are a member of the TeenCoreClub Network, you can enjoy 4-5 dozen of porn sites, and with that kept in mind, we are glad to announce: this membership is one hell of a deal.
Check out the other best pay porn sites OR read more on Nylon Sweeties from other popular review sites.