Mature Review
Mature
Price: $39.85 (30 days)
The Mature is a fine website, which has a collection of hardcore porn videos for you in case you are looking for videos with hot MILFs, and mature women, then this site is going to satisfy your needs.
00000
Mature Review
Site Overview
The Mature is one of those mega-sites which make a living from giving you a lot of things you can't easily find online. Real mature porn is one of these things – there aren't too many sites out there that offer this, mostly MILFs and women under 50 are what you get, and that's not exactly what mature lovers seek. On this, though you get amateurs and real housewives who get engaged in softcore and hardcore action, and who seem to like it when the action gets dirty. On the Mature, more than ten years' work is published, and this mixed compilation of US and Euro porn will certainly keep you aroused and make you want more. In case you like to watch matures in lesbian and straight sex then this portal is what you need.
Everything is exclusive; the site has footage from the United States and Europe from their contracted porn producers so that you can consider the videos as in-house productions. The site doesn't have sister sites, but the videos are all sorted into different series, which could be standalone sites. According to our research, the company behind the site is based in Netherland, and it has three sites: the OldAndYoungLesbians and the Mature-dot-EU, and both sites' video are available on this portal. It seems the US series doesn't have its sites, and so the boy-toy and the mature on mature videos. There are some surprising bonuses.
Design & Features
On the home page, the folks behind the Mature are granting you some insight on the content. You can browse the selection of the site, and it's also possible to watch some preview clips, thus you can gather some real information about the content. The color theme and most of the layout appears in the members' area. We would see the site getting some upgrade, so navigation could become better, because with the few provided tools it's not easy, and not too comfortable. You can find what you are looking for nonetheless, and that's what counts.
Though the site is old, it still keeps up, and one way of doing so is to be able to provide better quality. The normal HD is going out of commission, and the Full-HD is going to be regular, so the site should switch to that soon. But the available HD videos are looking good, and though you can see that they are digital shots, you may also notice that they are native HD, not enhanced old videos. Both the streams and downloadable files are in HD so that you can enjoy the fine quality either way. Most of the scenes are added with photo sets.
Girls & Videos
The ladies at the Mature are real women, and if you like this kind, then you have to check out this collection. The Mature promise more than 3,000 different models, and we believe it, because there are many women here, and they are varied and interesting. As the site's name tells the main thing it offers is mature porn, and but there are some fresh girls appearing in the exciting lesbian videos. There is over 14 years' worth of porn here, and most models appear only once, but there are also a few hundred ladies who got the hang of it and regularly returns for more. Regarding their actual appearance, you will see that the women come from the 40-65 ages, and there is barely any lady here who is still in here thirties. This makes the site much exciting, and you are going to love these videos very-very much. There is a fine level of variety, because
You will see that the women come from the 40-65 ages, and there are barely some ladies here who are still in the thirties. This makes the site much exciting, and you are going to love these videos very-very much. There is a fine level of variety, because the ladies are coming from Europe and the USA too, and they are not just different in appearance and nationality, but they represent the different sexuality of the much diverse countries and ages they are coming from. Some old ladies are just shooting some solo action, while other engage in hardcore and lesbian action too.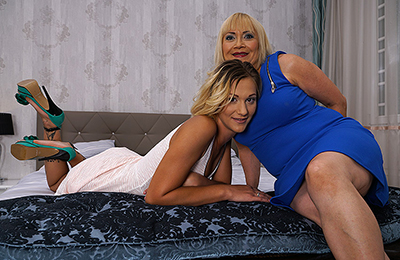 Conclusion
You will find here some really hot pieces, and though some of them are looking average, they are really eager to show you what they can do – and that's what makes them hot. Fortunately, the site grows regularly, and they add some new ladies to the list too, so expansion is always present, and fresh mature porn is always an available week after week.
Enjoy the other premium porn sites OR enjoy more on Mature.