AllInterracial Review
AllInterracial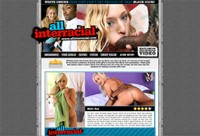 Price: $1.00 (2 day access)
As the site is all about interracial sex, you are going to see here hot and mostly 20-something Caucasian girls performing hard sex with their Black partner.
00000
All Interracial Review
Site Overview
The AllInterracial is a hardcore site that much is true, but it's also kinky because it features only hard interracial sex. The girls are sexy as hell, and the guys seem to be more than happy to satisfy their need for a hard Black cock. This is the basic setup, there are some stories told, but the main attraction is the great hardcore sex. You are going to find here exciting and exhausting sex videos. This site is owned by the HOH Limited, which has nearly 90 sites online.
The company runs several networks and mega-sites. They launched the AllInterracial in 2004 and as far as we could tell it stopped updating in 2012. But, don't worry: the collection maybe not a huge one, but there are so many extras for you, that you won't be able even to get to the end of it. There are about 60+ hardcore sites attached to every member's account, and from the members' area, you can easily reach them. Also, you will see that almost all popular and some of the kinkier hardcore niches are covered here.
Design & Features
There is only a teasing tour you can take on the AllInterracial. Apart from the pictures on the home page, you can't browse anything else. In case you want more, then search the girls on the net or something, but we warmly recommend you to head inside instead. In there, they placed a few menus to help you navigate through the collection – you can easily access the search engine, use the sorting options, or choose something from the menu, thus getting closer to what you need. The design and the template is a bit outdated, but it's fine overall, it works fast, and you can do everything you would like to on a porn site.
Naturally, you can stream or download the videos. There are no limitations in data-traffic, so you can watch or download as much as you can. We recommend saving the collection as it is if you don't plan for the long run. You can grab the HD version of the scenes in MP4 files, and the player in the browser play nearly the same quality resources file too. For SD videos, you might pick an MP4 or a WMV file. There are a few photo sets, they are pretty good, so don't forget to check them.
Girls & Videos
You will find here some fine asses and boobs, and if you like to watch mixed couples fucking around, you are going to be utterly satisfied with this collection. It's quite surprising how hot these girls are. One would think that interracial porn is still so kinky that only older models are doing it, but these presumptions have been proved to be wrong: these hot US citizens are capable of doing anything they like with the Black guys they seem to prefer much.
Those who are looking for cute girls, who are natural, yet busty will love the models' appearance at the AllInterracial. These horny and busty girl worth to look at, and when you are looking for their fine bodies, you are going to see that they know how to fuck. Regarding the expertise, the site claims they are amateurs but as they handle those big cocks, we think they are more experienced.
As soon as you open the page you are welcomed by Molly Rae. She is a hot blonde that you would fuck like hell too. But, she isn't an amateur. Molly is busty and eager, and she handles all sizes of cock like professional does. Her performance is great, and her videos are well worth watching on this site, and on other sites too. So, the girls are not fully amateurs, and they are not exactly the professionals either. This means the collection has a fine amateurish nature. However, we have to say that these videos are something. If you enjoy watching hard sex, and you don't mind if it's kinky and juicy, then you are more than welcome to join the site.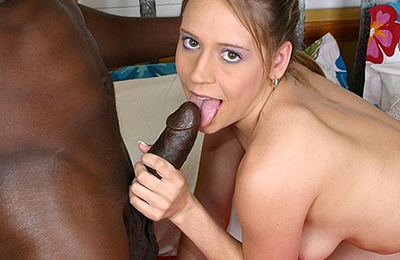 Conclusion
It is rather unfortunate that the site is no longer updating on its account, however, we have to say that we loved that the scenes here are mostly HD, even though a few of them are old. What makes the site exciting is that it has a large bonus content-pile, and that's something every man needs. Among the bonuses, you can enjoy more hardcore interracial stuff, and if you are not too picky, you can find a whole lot of exciting porn videos for your viewing enjoyment.
The site is no longer available. For similar content have a look HERE