Teamskeet Review
Teamskeet Network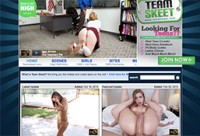 Price: $1.00 (3 day access)
Teamskeet is the best porn site for college girl lovers. These hot chicks will make you crazy. Here a wide choice of videos in High Definition and great pictures.
00000
Team Skeet Network Review
Site Overview
Everyone has fantasized about being able to do it with a girl that is an amateur and has no idea how to ride you, or maybe a girl whose first time is with you. The thrill of being able to lead a beautiful girl into losing her tight pussy with you will surely make your dick hard and will make you want to look for more. TeamSkeet is a site that has everything that you need and is a complete package when it comes to big, long and hard dicks trying their way in a tight and wet pussy; this site has thousands of subscribers and they say it all, the quality and service is the best.
Design & Features
Once you open the site TeenSkeet, you will be greeted with beautiful girls who are fully naked and ready to get their pussy eaten. The slogan "We play dirty" gives you an insight of what the videos that are uploaded on the site are about, the blue and white background is not too flashy so it does not distract you from the gorgeous model's whose eyes are all on the massive penises in front of them. The TeamSkeet idea comes from the word team which means a cooperative until while skeet means to bust a nut and this site is absolutely living up to its name because once you become a member of their site you will have an instant access to their other 24 sites like She'sNew, PovLife, TheRealWorkout, ThisGirlSucks, OyeLoca, TittyAttack, LustHD, SelfDesire, SoloInterviews and many others that you can access with the price of just one site.
TeamSkeet has about 1,500 plus high definition scenes and full-length videos that are 100% downloadable, once you sign up to the site, the downloads are unlimited and can be converted into different formats such as MP4, AVI, MOV, HD, SD, MPEG, WMV, iPhone, Ipad, 3pg and mobile. There are thousands of high-resolution pictures that are also all downloadable and the sizes of each picture are adjustable according to your need. The site also has about 1,300 plus gorgeous amateur girls and each of them are of top caliber. They are girl next door material with fit bodies; they are also of mixed ethnicity from Latinas to Westerners, from Asians to Ebonies, all of which can deliver a spectacular performance that will make your prick hard.
Girls & Videos
TeamSkeet delivers hot and stunning ladies who maybe amateurs in sucking dicks but are willing to get their pussies filled. They have about 1,300 girls that you can choose from and about 1,500 high definition videos that you can watch. They have Monica Austin who had interracial sex with her boyfriend after partying all night at a club, he knocked on her door asking her to do him a favour as she ask what was in it for her. He then started fiddling her breasts from behind and he then lays her on the kitchen counter, he took her panties off and started licking her wet pussy and she immediately returned the favour and sucked his big black cock, barely taking the massive man meat inside her mouth. He started drilling her sideways, with just a good view from the camera you can see the fully erect prick going in and out of her wet pussy and her moaning and panting indicated that she was incredibly turned on and was close to cumming.
As pretty blond girl named Emily Austin has one of the hottest videos on the site, she approached her coach asking him if she could be an athlete, he then got close and told her that if she wanted to be on the team she has to go through an "audition" and that each and every athlete when through it. He then lifted her and sat her down on the teacher's table; he spread her legs and ate her as they slowly took each other's clothes off. Then took his massive hard cock out and started pounding her, feeling that it was not enough and that the Emily Austin was enjoying her "audition" he then layed on the floor and she went on top of him and rode him like a professional. With balls slapping and Emily Austin riding the cock like a bull, both came minutes later and she passed her "audition" with flying colors.
There are also videos that are in interview type scenarios, one of them is for Jamie Rose, a beautiful busty lady that talked to the camera about her wanting to be a porn star, after the short interview she is then fully naked as she slowly sucked the cock of what seems to be the interviewer holding the camera. She surely knows how to work her way as he sucked the then hard dick fully and deep throated it. She then layed on the bed as the man pumped his dick in and out of her hole. She then went back into giving her a spectacular blowjob before riding him. Another hot amateur star of the site is Penelope Stone, as she was strolling at the local park she felt the urge to get naked right there and then, she flashed her perfect breasts with nipple rings as the man behind the camera jiggled it. They went into the corner of the park and she then started blowing him, taking all of his sausage in. He offered her to have sex with him back to his place before they get caught doing it publicly and as you can imagine she fucked him real good as he came all over her.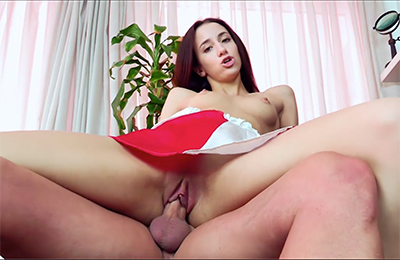 Conclusion
If you are looking for high-quality videos and the best scenarios when it comes to amateur porn then TeamSkeet is the site for you. They look for the best of the best and goes through different audition process for their porn stars and all of these hot auditions as uploaded on the site. Once you become a member you will have instant access to their 24 sites and all of your information is held private and they have a 24/7 customer service hotline that can help you anytime.
Check out the other best pay porn sites OR read more on TeamSkeet Network from other popular review sites.