YoungFatties Review
YoungFatties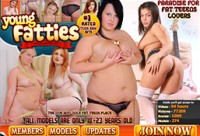 Price: $5.95 (2 day access)
The hot girls and even hotter scenes combined with a friendly design make it clear why the website has been ranked as the best girls BBW website. You should give the website a try if you want to see some chubby girls in action.
00000
YoungFatties Review
Site Overview
There is a lot of content to enjoy, and you can also download all that you want from the downloadable section. The website is very well organized, and each girl has something new to offer. The videos are labeled quite efficiently by mentioning 'parts' which easily allow you to understand how many girls are present in a single video. Some of the videos are broken in up to five parts, and you can download them all or stream them as per your convenience.
The website is home to 415 movies, and you'll be glad to know that most of them are in Full HD. You can sort all of these videos based on their ratings and reviews. You also get access to over 77000 photos and over 750 chubby girl photo set that you will love to explore. One thing that needs to be considered is that not all of the girls are 'fatties', and many of them are just chubby. So even if you are not looking specifically for chubby girls, you will love exploring the videos and have a great experience. You can also leave comments and ratings on all of the videos to help other members know which videos are worth their time and from what the site statistics state the average rating for all the videos is pretty high, making the website an easy pick when it comes to chubby girl porn sites.
Design & Features
One of the biggest advantages that Young Fatties has over other websites of the same category is that the site is very easy to use. You do not have to waste your valuable time looking for stuff, everything in the website is self-explanatory, and you will be able to browse through the large pool of content simply by navigating through the categories. Also, the ability to share feedback and check what others think of a particular video makes the overall experience with the website a whole lot better. You can also share and discuss your opinions on a particular video with fellow members.
You can download a lot of content in Full HD, and some of the older videos are in lower resolutions. The images on the website are also downloadable, and you can get them all in zip files. So even if are away from internet access you can have fun with the videos if you keep them downloaded on your PC. The file formats are compatible with nearly all media player, and you should not have a hard time viewing content on your PC or your TV. You can easily browse through the categories and find exactly what you need in a matter of seconds. The features of the website are great as well, and it's recommended that you view all of the content in 1080p to get the maximum experience.
Girls & Videos
Some of the hottest performers at Young Fatties include Suzie, Margareth, and Natalie. They have multiple videos and a range of photos that are awaiting you at the website. Getting a subscription allows you to access these videos and photos and a whole lot more. They know how to turn you own, and every single girl at Young Fatties knows what it takes to make a man go hot. And it's not only the girls that make you keep coming back for more but also the quality of the videos. Young Fatties has exceptional quality, and you get only the best and nothing else. A lot of time is invested on the website to keep it updated, and you will get access to a plethora of updates over time with weekly videos and pictures coming in to keep the users addicted to the website. The girls are hot at Young Fatties and the women even hotter.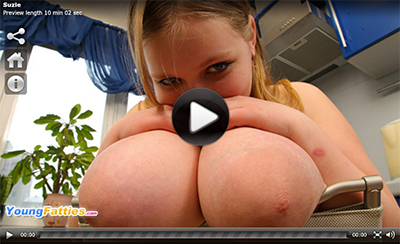 Conclusion
The website is known for its regular updates and you will find new videos and galleries coming in every week. The user community is also great and you will find people discussing their porn stars and videos and you too can join in on all the fun that this website has to offer. The amount of content that is made available to the users is a lot, and you will have a hard time finishing all the great videos and photos that make your membership a pleasurable one.