WhippedAss Review
WhippedAss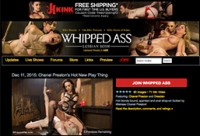 Price: $29.85 (30 days)
This lesbian-focused hardcore site is one of the few pages that feature girl on girl action, but it doesn't have that annoying pink color frame as all others. Naturally, this is because pink is a soft color and it would be totally different from the content since it's dark and nasty.
00000
Whipped Ass Review
Site Overview
The WhippedAss grants the members a neat collection of heavy hardcore BDSM porn. To make it more interesting, every video features lesbian sex, so if you like to watch girls going hard on each other, you will find the scenes here actually entertaining. Now, don't hope for mediocre levels of nastiness, because these girls are not joking, they make the other unable to move and they do things to them that they won't necessarily enjoy.
Design & Features
The home page of the WhippedAss has a neat tour for you, and in case you like to ascertain the quality, you can do so very easily. The overall layout of the page is good; it's hard to get lost. The top features the network, where you can list the other Kink sites, and you may also log in or join. If you are looking for the menu of the WhippedAss, you can find it below the banner. This main menu features the links to the videos' page, the live cams, forums and stores.
As for the tour's features, you will see yourself that it grants you some actual insight on the content: there are pictures and preview trailers which are really hot and offers enough info about the main content. Once you log in, you will see the same, really simple page as the tour. On the top, the network menu remains, but you can also find there your account menu, and the next live show is featured. There is a search bar, which may help you get closer to the videos that might satisfy your needs; it's very simple, though, and it's based on keywords. In any case, it's you only navigation tool apart from the main menu.
There are some bonuses inside: you can use the KinkOnDemand to add videos to your permanent library and as a subscriber, you can enjoy one live cam show each month. And these shows are well worth watching because they are not the home-made performances you might see on any cam site. Apart from the free show, naturally you can access the live chat site too. Since the videos are rather long (nearly an hour each), if you don't trust your machine or the connection, saving the videos is recommended. All video is uploaded with an accompanying set of pictures, which seem to contain mostly photos, not just captions. You can download these too, in zip format. The WhippedAss is mobile-ready; you can use all functions, and access all content on your smartphone, tablet.
Girls & Videos
Every model is a pornstar, so you don't have to worry about their peace of mind; they know what they are doing. These nasty girls seemingly enjoy being in the dominative role, but as you will see, in the end, the submitted girl also 'cums for her mistress.' Since these chicks are professionals, it's just expected to see so many fake lips and huge fake tits. Fortunately, the site isn't a White-chicks only one, so your desires, fantasies for juicy interracial lesbian femdom porn are going to be fulfilled here. These videos are partially scripted. They all have a basic situation, a story that turns into heavy femdom porn. The girls are doing a really good job being mean, yet sexy, and the submitted chicks are also playing to make you believe. There will lot of spanking in the videos, it's a kind of warm-up for both parties. Since the girls are going to be tied up, they can't move, so the other can do anything. And she does: there is whipping of ass and pussy, some smothering and they even fuck the sub in her ass.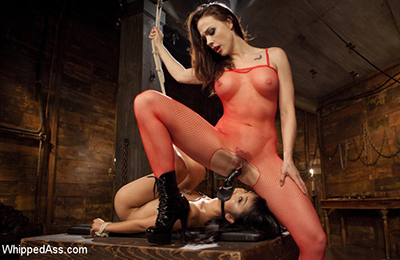 Conclusion
The girls here are not too nice to each other, femdom is never easy, and as you can see, some of the models enjoy it pretty much, so their videos are more entertaining. In case, you enjoy hardcore lesbian sex, and you like femdom as a niche, you'll probably enjoy these BDSM porn videos.