TokyoBang Review
TokyoBang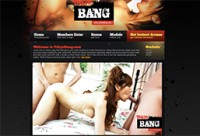 Price: $1.00 (3 day access)
The TokyoBang is one of those Japanese-focused hardcore porn sites that offer the members a large collection that grows regularly, and those who like to watch group sex porn videos, will be really satisfied with their decision after they join the site.
00000
Tokyo Bang Review
Site Overview
The site is only five years old, it launched in 2005, and it has been updated regularly since then. The videos of the site are not totally exclusive: they are coming for Japanese adult video DVDs, so they might be available in the offline format (if you want to go through the procedure of international porn DVD ordering), but in the matter of online publicity they are mostly exclusive. The bonuses you get after joining are exciting.
First, you gain access to the whole AllJapanesePass network, which means that you are bestowed with the ability to watch all videos distributed, sorted out through 21 niche-driven, thematic sites. The whole network has the content of over 6400 DVDs, which adds up to a total of more than 27,000 scenes, and there is a huge photo database too. Also, third party feeds and DVDs are also become available after joining.
Design & Features
On the tour page of the TokyoBang you will see that there are some very gorgeous girls getting pounded by groups of men, and since the thumbnails are showing the actual quality of the videos, you can also see that it's pretty good. In the members' zone, you get a few options to sort the scenes. A search engine, along with categories tags will help you to get closer to videos that feature your favorite niches. The site has a models' index too, and if you see a girl who awakes your curiosity (or your one-eyed snake) you can find here videos at one page. The AllJapanesePass grants you unlimited download and streaming options, and if you like hardcore sex, you should appreciate this.
For in-browser playing a Flash video stream is accessed and you can watch them easily, and with the nice stream, you won't experience so much lagging, and if you let the video load up properly, you wouldn't see it buffering too. The videos of the TokyoBang are available in MP4 format, but they offer better quality than the online stream. The TokyoBang is a videos-only page, but if you want photos, check the network sites, you ought to find some somewhere. All sites of the AllJapanesePass, including the TokyoBang, are ready to go mobile, and if you try to access the collection from your tablet or smartphone, you will get to find yourself in front of a nicely working and fast site.
Girls & Videos
All models are gorgeous, and usually, they are still in their best years, so you can expect to see here some amazingly tight bodies with nice curves. If you are not a fan of perfectly shaved pussies, you will be certainly glad to see that there some nice trimmed or even bushy pussy here and the girls are spreading their legs so wide that you can see everything. The sex that takes place in these videos is pretty hard. As you would have guessed from a Japanese-focused porn site, the scenes aren't just hardcore, but they are heavy hardcore, and all of them offer you some exciting sexually explicit activities.
All scenes on the TokyoBang come from DVDs, and though they clarify the situations, there are no dialogues or story lines to follow. As the name presets, these scenes feature Japanese gangbang scene. Don't expect to find here bukkake videos, because that doesn't a sub-niche or part of the gangbang main niche; the bukkake scenes feature handjobs and blowjobs, the climax of bukkake movies is the multiple facial cumshots. In difference with this unique Japanese niche, the gangbang originates from the West, and these bits perv Japanese implemented it into their adult video culture.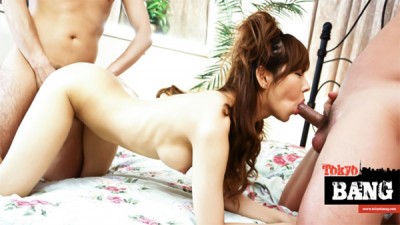 Conclusion
Everyone who is interested in porn, or simply likes Japanese girls should check the TokyoBang because gangbang isn't his favorite niche, the membership is eligible to the whole AllJapanesePass network, which means that 20 sites are also offered, and they all have their main niche and their collection that grows every day, due to the daily network-wide updates.