TabooHandjobs Review
TabooHandjobs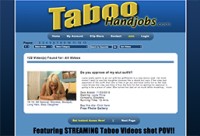 Price: $2.95 (2 day access)
You get to watch here some of the hottest upcoming porn starlets of the States shaking hard cocks, and showing off their fine bodies. Exclusive handjob videos, what else could you possibly ask for?
00000
Taboo Handjobs Review
Site Overview
Though the TabooHandjobs doesn't look like, it's a quite active porn site, where you can enjoy a collection of exclusive handjobs porn scenes, with some taboo stories, told in them. We are always eager to review sites that have the word "taboo" in their names, but unfortunately, in many cases, we just hit the floor with face down. In this case, we weren't so disappointed, though we were hoping for something kinkier.
Instead of that, we get here some hard handjob scenes with MILF and cuties, and some stories about stepbrothers, stepmoms and stepsister engaging in jerking-off scenarios. Apart from this theme, nothing too kinky happens. This is only an insignificant issue, though, because the videos are quite exciting, and they served in a fine way. The girls are pros and semi-pros, the site keeps on updating regularly, and the quality increased a lot. Did we mention that it's all exclusive here?
Design & Features
The TabooHandjobs has a nice but bit outdated website. There are pictures listed throughout the page, which has a strange light blue color theme. The videos are listed lower on the page, with a series of thumbnails of the action and a short description. As a simple visitor, you can view this list and the models' info page. The members' are isn't too complicated to use, but at least there are some fine options to help out with browsing. Under the top banner, they placed the menu, where you can go for the content, and to the DVD store. A bit lower, you can sort the videos by selecting a model, a keyword, or entering the keyword in the search box. This isn't much, but we believe that these are quite enough to help you narrow the videos' list.
You can play every video in the browser. Since they are not too long, you are going to find the in-browser viewing more than satisfying. You have to settle with that because the site doesn't offer downloadable videos. But at least you can enjoy these flicks in HD in your browser. Those who are looking for some sexy and fun porn will certainly enjoy the videos here since they are the only content you gain access to. There are few video captions, but photos are not featured. It seems the site works on mobiles, but it's not perfectly optimized so that some weird things might occur.
Girls & Videos
On TabooHandjobs, there are some education-related videos too, with professors and stuff. Actually, these stories are not off the road: they are quite easy to figure, and they are not too significant. What really matters in these scenes is the great hand job. The girls get on with it quite soon, there is usually only 2-3 minutes of chit-chat which takes us to the action. In most cases, the girls are quite big whores and they pack up and rack up the cock they are close to. The guys just lay or sit there, well the cute girls' niche hands do the job. A lot of talking happens during the jack-off sessions, and it's up to you whether you like it or not. Some girls do it pretty well, while others are somewhat more silence, which isn't such a bad thing.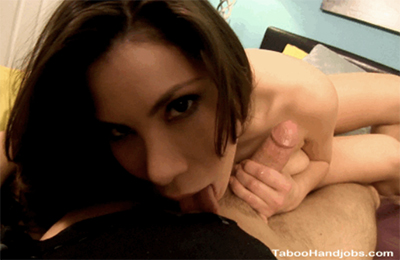 Conclusion
As a member at the TabooHandjobs, you are going to receive access to an endless stream of nice, hot hand job porn videos. These guys are not joking around when it comes to hard cock-handling, and they always get some really hot pieces to the dirty work for them. If you have your mind fixed on hot chicks and you also like to shake your cock, then this site is the best choice to get what you like. The updates keep on coming regularly, which is a very good feature, as they are many hand job sites out there that stopped working a few years before.