StraponSlaves Review
StraponSlaves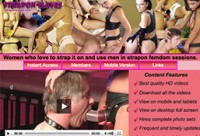 Price: $29.95 (30 days)
If you are a fan of the heavy hardcore niches, then you will find the collection to be very satisfying, and if you are someone with a crush on dominating, strong-willed women, then the videos of the StraponSlaves will certainly satisfy your needs.
00000
Strapon Slaves Review
Site Overview
At some point, all women wish for a chance to get back at those guys who were using them, hurting them in any way. Though the StraponSlaves won't help in that, you can see what could happen if you give power to women and the ability to totally destroy the man in front of them. The StraponSlaves is part of the FetishPack. This spectacular and nasty site launched in 2001, like many other sites within the network.
The site is regularly updated: you get a new video in every 3 days or so, thus you can expect to find here an already large compilation. As for the extra content, you can access the whole FetishPack network, which means more than 20 fetish sites' videos. You are also granted with the option to browse the DVD library of the FetishPack, which gives you some normal hardcore porn, and much other heavy hardcore stuff to enjoy.
Design & Features
The tour page of the StraponSlaves is simple, but it offers you an insight: there are some trailers placed on the page that you can watch. Also, the tour page lists the latest updates to the network's DVD collection. When you log in, you will see a good and simple members' zone. There will be a search engine, and a few sorting options for the videos' list, like date, views, length and so on. The videos are listed by thumbnails, and if you click on one, you get to the video's page, where you can start watching it in the browser, or choose from the offered download options. Both options are offering a choice: you can set the videos' quality either for better playback quality when you watch them online, or for saving space when downloading them.
Most scenes have an average resolution, and they are offered as MP4 files. There are few photo sets on the site which you can browse online or in one file, but it seems that there aren't any galleries added lately. You can enjoy all features of the site on a tablet or a smartphone since the StraponSlaves (and all sites within the FetishPack network) has a nicely done, and full operating mobile page. This page is laid out well, and it offers everything that the desktop version offers, and in fact, the videos look better on a tablet's screen.
Girls & Videos
You can find here all kind of models, and since most of them are Europeans, mostly Caucasians and Latinas appear, though some Asians may happen to appear in some cases. (In the bonus videos, you can find Blacks and Asians for sure.) The body type of the women is very varied, but they don't seem to be corrected, and even the mature models are in a good condition and they have tight bodies with nice round tits and ass. The fresher models are simply gorgeous, you would be glad if you could have the chance to get fucked by them if you like to be a submissive party.
The movies are coming mostly from DVDs, which means that they are staged, though it's quite certain that they are not scripted. The situations are usually evident, and the basic principle is this: the guy needs to be taught a lesson, and thus he must obey her mistress, and let her do whatever she wants. As you can depict from the site's name, the main tools in use are strap-ons, and the mistresses use them wisely and hard. The guys must suck these artificial cocks and they get their ass fucked in mean ways by the mistresses.
Most scenes feature couples… well, if you dare to call them couples, but there are some pretty awesome videos featuring threesomes, where two busty and mean chicks use their man-slave to become happy and fulfilled. Sometimes the mistresses let their slave fuck them before they fuck him in his ass, so you can expect to find here some varied collection, with a wide range of heavy hardcore niches covered.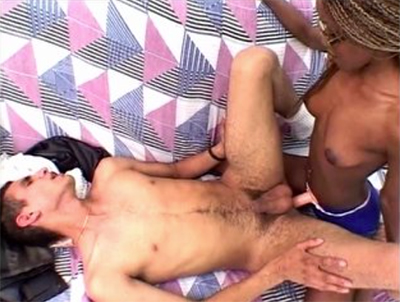 Conclusion
The StraponSlaves is recommended only for those, who like this fetish and BDSM. When you join the site, you get access to the whole FetishPack network, and among the included sites, you can find more sites with femdom elements, so if you are interested in that, you should check out those too. Otherwise, the memberships worth every penny, especially for the fetish fans, but because of a lot of bonuses too.