SneakySex Review
SneakySex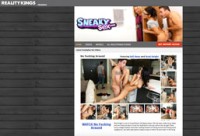 Price: $29.99 (30 days)
SneakySex is a wonderful porn site that truly works wonders on your cock, and will surely keep you satisfied for a long time. From the design and layout of the content and videos, the site is flawless and the pure effort put-in to making high-quality content is commendable.
00000
Sneaky Sex Review
Site Overview
SneakySex is a great porn site offering you great sexcapades of guys and bitches. The intense experience you achieve from watching these videos is sure to bring all your sexual fantasies alive. When you witness a girl and the guy having a strong and genuine orgasm, you will hear sweet moans of pleasure and satisfaction permeating throughout the room. Those trembling and shaking bodies will give you the ultimate satisfaction of watching a slut experience orgasm, while you experience your own. The out-of-this-world ejaculation will satisfy you thoroughly.
Many sites provide amazing porn contents, SneakySex is unique because of the kind of themes that it uses and the thrilling nature of sex that it offers. If you ask me about the subscription to SneakySex, my recommendation would be to subscribe. SneakySex comes from the RealityKings stable, so you know that you are in for a great sexual treat when you subscribe. If you are interested in this kind of porn and want to know more about SneakySex, we recommend that you continue with the review given below to discover key aspects and why it is so popular among men searching for solid porn material.
Design & Features
SneakySex has a design that will visually stun you and you are sure to satisfy yourself with its incredible porn videos. The design is unique and fascinating, grabbing your attention and allowing you to focus only on the porn videos. On the homepage, there is a beautiful logo of SneakySex on the left, and an image of a guy fucking a girl in a bathroom, while another chick peeps into the bathroom. There are important links placed on the top and below the image, which takes you to various parts of the site. Below the links, there are clips of the pornstars featuring in the video in a list and with large thumbnails of the video and photo sets. Title and names of the featured stars are mentioned above the thumbnails.
There are about ten photos per thumbnail, and below these, there is a brief description of the video. SneakySex is responsive, indicating that it is compatible with any device and computer. So, you can enjoy your favorite pornstars and their sensuous videos wherever you go. Navigational buttons are also used to make navigation through various parts of the site easy. The buttons are placed well and labeled. This makes the interface of the site functional, intuitive and quite user-friendly.
Girls & Videos
There is nothing that these sluts cannot do. They love to suck cocks and have their nipples and breasts massaged, asses and pussies fucked. When fingers are inserted into those wet and juicy cunts, they cannot contain their pleasure. They know how to moan out loud when finger fucked. And fucking brings out the best in them. They love to get their asses pounded or pussies ripped apart by these hot dicks. If this is exciting, then wait to read a video description. You will wet your pants with gooey cum at the end of the description.There are two types of videos on SneakySex.
One variety features a masseuse fucked by a guy, while the second variety features lesbian porn. Both have their charm and are interesting to watch. I loved Gym and Pussy Juice featuring Rachel Starr and Roman Nomar. Rachel goes to the gym with her boyfriend because he is unable to satisfy her in bed, and seems to be dull with no energy. She wants him to start working out and have an awesome body so that he can fuck her with full energy and vigor. However, behind all this, she is seeking the services of a real man, with a muscular body and a cock that can satisfy her pussy and mind. And here comes Ramon, a strong and muscular hunk who knows his way into a bitch's heart and pussy. While Rachel's boyfriend is busy trying to figure out what to do, Rachel decides to have some
While Rachel's boyfriend is busy trying to figure out what to do, Rachel decides to have some fun and teases Ramon. Ramon responds positively and starts playing with Rachel's perfect tits and ass, while the boyfriend is busy exercising, Rachel sneaks a quickie with Ramon, with both fucking the hell out of each other. The scene climaxes with Ramon cumming hard on Rachel.
The videos will give you a great time and are as diverse as the chicks. The videos feature sex in any place the chicks want and can include the park, outdoors, backyard, car, by the pool side, in the swimming pool, beach, or bathrooms, and even toilets. The naked sluts having their breasts fondled, pussies fucked and asses pounded will make your day. Watch out for cum facials, cum swallowing, cum licking, creampies, orgies, gangbangs, threesomes, foursomes, public sex, and others.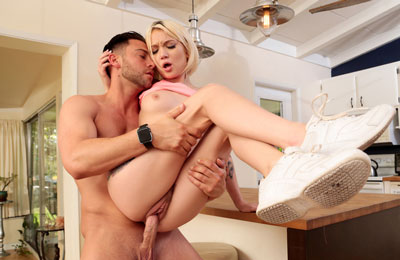 Conclusion
Coming from the RealityKings network, SneakySex is affordable to subscribe to, and offers you free access to 46 sites in the network.
Check out the other adult pay sites OR read more on SnearkySex from other popular review sites.