SafariSex Review
SafariSex
Price: $29.95 (30 days)
Join our horny hunters cross the sweltering heat of the wilderness in search of the biggest and most elusive cats ever known to crawl the dry lands: the African pussy.
00000
Safari Sex Review
Site Overview
What's hotter than the Sahara Desert? The women who live there, of course! Yes, you read that right! African women are more than just elegant queens that rule the desert and safari – they are the mistresses capable of intense passion and love! It is no secret that their passion for sex is so hot, that the desert is a winter wonderland that pales in comparison! If National Geographic had programmed an adult video show that's more entertaining than educational, then Safari Sex would be a chart topper you wouldn't want to miss! I lied. It is educational because this website will teach you what turns on a woman and how to drive her insanely wild with orgasms. Safari Sex puts you in a hunter's state of mind and makes you think how these women think, act, and most importantly, what gets their libido going faster than a cheetah. I guarantee you that the only hungry wild animals you see are the men and women partaking in one of the most primal instincts common to both men and animal alike; pleasurable sex.
Design & Features
If it wasn't any obvious, the theme of the website is Safari, and it's set in a country well known for being "the melting pot of cultures", which is Africa. The website is simple and sensible, but that doesn't mean it is not the least bit sexy! It has warm sunset background with silhouettes of trees, rocks and animals, further giving that Serengeti style to your screen. But it's not all just animals and safari images on the home page. At the top bar, you are then treated to a couple of close-up pictures of the models, screenshots of the videos, or candid snaps of the actors in the middle of action. Once a video is uploaded, they often change the top bar and it acts as some "quick previews" to the videos currently uploaded. As enticing as this display is, guests can only see the preview tiles on the videos page.
If you scroll further down the home page, there is a rather lengthy list naming the recently uploaded videos along with even sexier screenshots of the accompanying video. Of course, this is only the home page for the unregistered members or guests. Registered members, however, have the distinct privilege to not only view the video multiples times but to download these videos so you can watch it later or re-watch it when you have some private time. Guests can only see previews, but that can be easily fixed when registering for membership, and with what Safari Sex has to offer, what's stopping you from signing up?
Girls & Videos
The women starring in these videos fall in this internet category with what is labeled as "ebony" porn. Ebony porn features men and women of the darker skin engaging in sex with people of the same or different color. The most common pairing with ebony men and women are white people like Americans and Germans. As if filming yourself making love to these women in the open desert wasn't thrilling enough, people find it exhilarating and other claim addicting when it comes to having sex with people who aren't the same color as them. The non-ebony women seem to enjoy having their bodies touched and tremble at an ebony man's touch. But man or woman, it is incredibly obvious that these ebony beauties are more than just eye candy. They are elegant, poised and cultured, but at the same time, they are wild, uninhibited and incredibly horny. They have the physical capacity to come to you like a graceful gazelle but will get down on you like a tigress does pounce and devour her prey.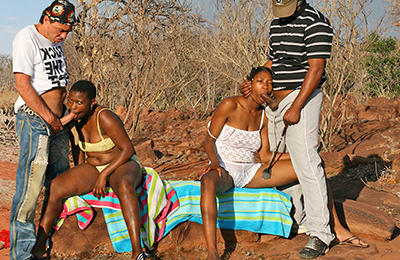 Conclusion
To sum it all up, Safari Sex successfully caters to all the ebony lovers out there. It has high-quality videos, quality content, the option to download videos, steady upload of videos (which again, is a lot more compared to other websites), and exclusive access only to registered members. With what Safari Sex has to offer, there is no need for you to book a ticket and hop on the next flight for a glimpse of these hotties and the taste of the wilderness. Let the hotties and wilderness come to you, in the comforts of your private time at home at Safari Sex.
Check out the other porn paysites OR read more on SafariSex.