RubATeen Review
RubATeen
Price: $1.00 (2 day access)
The entirety of it all is erotic and hardcore, quite messy but so worth it. Here, we will see a different variety of girl or girls set up a massage appointment.
00000
RubATeen Review
Site Overview
When you are itching for a massage and the person assigned to you is a banging hot chick, cleavage and all, what do you do? Professionally speaking, you do not engage in any perverted sexual advancements because that is illegal – unless they come on to you and you happen to be single and horny. Let's face it: not all massage parlors are squeaky clean when it comes to public morals and all. You will always get your fair share of sexual troubles, but that is not an entirely bad thing, right? Even just outside my home, we get these "famous" massage parlors where foreign people flock up there and I am one hundred percent sure that is not because of the great back rubs the staff does. Often, I hear that the neighboring massage parlor is professionally just into giving 'happy endings'.
Well, happy endings, if you are not even vaguely familiar, is when you go to a massage parlor (or when someone goes to a massage parlor) and you get your massage and it ends up being a hardcore fuck fest and when the guys cum to an extent, that is what is called the infamous 'happy ending'. Fortunately, that kind of encounter does not happen to men alone. It could also apply to females and I think that is even hotter. Imagine a female customer walking up to a massage place and once she is shown the room she is going to get, she then gets naked and awaits her masseuse to slather her with some oil and loving, while lying face down the massage bed. Not only men can get their happy endings, but even females can also and it is a rather famous instance that is even going on in real life. Which is why I am honestly glad that Team Skeet decided to grace us with their amazing porn site: RubATeen. The site title speaks a lot and does not need an explanation, but I will go ahead and do so because that is the point of this review.
Design & Features
RubATeen, like all of the other sites Team Skeet produces, is as playful as it can get. Also, very easy to manage and even easier to navigate to. On top, you get the usual huge banner with photos of naked girls getting fucked and everything, including the site title which is practically a joy to watch with its many colors and its many different components. Along with that, their slogan is also plastered on top and it says "Full body, full release! These girls are not 100% sure what they signed up for but they never want it to stop and we don't either! See just how far they go inside!". If that is not an invitation to great porn material, I do not know what is.
Below that exclamation, you get the only links that would matter and these are the links to the main page, the page where you can find all the scenes, the page where you are bound to find the model index, and the member's login page. Now, if you think it's all wishy-washy that you have to go to the 'Scenes' page to find your movies, then do not fret, because you also get the pagination link in the main page. This is because the main page is practically a bevy of hot video thumbnails that when clicked, will lead you straight to the respective video it represents. With the pagination link, you can go back and forth and with that, you get to see the bigger picture and probably sweep in all the videos in a go. Each thumbnail is completed with a very informative description and the number of ratings it has. Bonus sites are also given for free.
Girls & Videos
Well, the girls of RubATeen are fresh but they do know how to go down and dirty. They love their every moment as they get pleasured by their equally hot masseuses. The action is captured beautifully in HD and all scenes can either be downloaded or watch in-browser using an embedded flash player. Downloading the scenes would mean saving the files to your device in either Mp4 format or WMV format. In-browser streaming only requires an updated Flash player. With both options, you can get a resolution of 1920 x 1080 or a slightly lower 1024 x 576.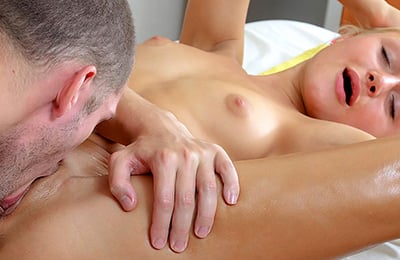 Conclusion
RubATeen is great and unique in some ways. I am recommending this strongly to those people who like seeing girls being oiled, rubbed, and fucked to the point of no return.
Look at the other top pay porn sites OR read more on RubATeen from other popular review sites.