PunishedAngels Review
PunishedAngels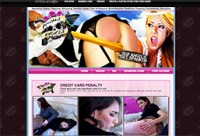 Price: $24.95 (30 days)
PunishedAngels is dedicated for those of you who appreciate a good spank on a round beautiful ass.
00000
Punished Angels Review
Site Overview
This site only offers girl on girl action because it is more interesting to watch a woman getting mad and trying to be bad. PunishedAngels was founded by Chelsea Pfeiffer and her husband Lawrence Selden. They created this company from scratch and they are now the owners of one of the biggest and unique porn sites in this industry.
Design & Features
Designed with nuances of pink, this site is giving you access to videos in which one of the girls has been bad, so she needs to be spanked by the other one to learn her lesson. Everything is so girly but yet so hardcore. Everywhere you go you will see red asses that were slapped hard by hand or by a wooden hair brush. The big picture on the top of the Home page shows the difference between a bad girl (dressed in black lingerie) with her face down and red slapped ass up, and a good girl (dressed in white lingerie), white angel wings and a holy crown on her head.
The Bio page is where Chelsea is talking about how she created this company. She was often slapped by her parents if she has been doing something wrong. She considered that a normal thing because many of her friends were in the same situation. Chelsea discovered her affinity for spanking when she was 19 years old when she read a letter in Penthouse Letters magazine. When she was watching a movie and there were spanking scenes in it, she started to get excited because she felt like that is the way to show a woman how much you love her.
After reading that letter, because she was sexually active she wanted to experience more and more this experience. This action led her to where she is now and you must be happy because things happened like this cause without her, this amazingly realized site won't exist. On the bottom of every page is a button that you can click if you want to become a model on this site and all you will have to do is to follow the instructions and they will reach to you as soon as possible.
Girls & Videos
Credit Card Penalty is a well-realized video with a great story. Natalie and Ariel are two beautiful fit women with big tits and asses that need to be slapped. Natalie stole Ariel's credit card and she bought expensive things thinking that she will get away with it but she didn't. To make her understand the mistake she did, Ariel is slapping the hell out of Natalie's ass until she screams.
"Cupcakes" is one of the hottest and cute made scenes on this site. Carolyn, a busty blonde with a beautiful face and she is living with her good friend Francesca – a hot skinny brunette. In the morning, Carolyn is drinking here coffee and she eats a cupcake that Francesca bought last night for her. The blonde maybe thought that if she eats her friend's cupcake, she won't mind. But Francesca was frustrated because she also likes to eat something sweet in the morning with her coffee. From there on, Francesca spanked Carolyn's ass until it was red and hot. Apparently she didn't learn her lesson because right after the slapping, she finished eating the cupcake with a big and satisfied smile on her face.
Jerkin' On The Job is another great scene where Chelsea finds her hot employee masturbating in her office. She was supposed to make some updates on the company site but instead she was naked with the door unlocked, so Chelsea got mad. She starts slapping the blonde's beautiful fit and round ass with her hands and then the things get serious – she grabs a wooden hair brush and so she can spank the employee so hard that the redness will stay there for days.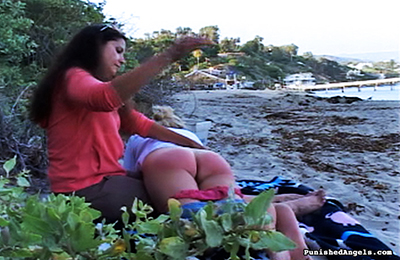 Conclusion
Slapping a girl on her butt can make her horny as fuck and she will make all your dreams come true after. Keep in mind that here are frequent updates and if you are not convinced yet you can also try the free trial for 2 days. Behave badly so you can get spanked!