OnlyBreast Review
OnlyBreast
Price: $29.95 (30 days)
OnlyBreast is your typical porn site but with more focus on breasts. Big breasts to be exact. Sure enough, the scenes are consistent with their focus on tits but you get a variety of other niches as well.
00000
Only Breast Review
Site Overview
Who does not love tits? Big ones, little ones – it does not matter. So long as they jiggle and give us potential boners, then why the heck not? Sign in OnlyBreast and you will get that sweet, loving breasts right in front of you in no time. With its primary niche focused on Big Boobs, HD Porn, and Hardcore Sex, it is hard not to get too hooked for your good. You will watch numerous breasts being oiled to the nipples and everywhere, and then rubbed for optimum satisfaction. It does not matter if they are real or fake, the fact remains that we have been thoroughly blessed with soft and squeeze-worthy tits.
Design & Features
They have a rather comprehensive and blanketing design that fits well with their theme. With their interface bordering sensual and classy, their fonts easily readable. I give it an utmost 7 over 10. 7 over 10 because they do lack essential features and browsing tools like an advanced search bar and the inability to find videos using important tags. You know, the usual things that are lacking in all ExtremeMovieCash porn sites. There are also ads in the member's area, and I find that a little annoying sometimes. Because really, who in their right mind likes ads? Mind you, those are for those who have been registered. If you have not, then I suggest you do so or else you will not be granted access to this porn site and with that, you cannot watch anything from here or use their sometimes outdated features. They do not have a model index, too. Meaning, no model biographies or information about these sexy, hot ladies. Their scenes and movies do not have the necessary descriptions and information, as well. So you will have to make do with the videos' thumbnails at this point.
Unfortunately for you porn photo enthusiasts, there are no found photo galleries in here, equaling to now photos at all. There might be a few number of video caps but they don't pass as professionally taken ones. Not surprising though, because again, EMC likes their videos too much to care about anything else. On the bright side, you will have complete access to exclusive videos that are in high definition and original "big boob" sex scenes that essentially just involves a lot of really big breasts and hardcore sex, with side dishes like fingering and oil rubbing. Lots of niches covered in this hell of a network, so don't decide on not jumping on the bandwagon just yet. The site has a 24/7 customer support and a billing support. You can also reach them via email or leave a query on their customer support area. They have live cam shows ready, but an extra fee is needed to view them.
Girls & Videos
The girls on this porn site obviously have huge tits to begin with, may it be fake or real. Perky or not. Soft or a little lean. With the site's focus leaning on "breasts," that fact in itself is not very surprising. The girls right here though, aside from their breasts (duh), are really steaming hot and sexy. They are gorgeous and their pride is rooted from how huge their boobs are or how perky they remain. These ladies are mostly fresh-faced. There are MILF looking ones too. Moving along, their scenes can be viewed via streaming or download. Streaming needs an updated flash player, like the usual. You can view these in 1280 x 720 resolution with a 5000k bit rate. You can also save these videos in your devices in MP4 format. The same 1280 x 720 resolution applies, with the same 5000k bit rate. Again, these scenes are exclusive and it just so happens that these scenes are taken from full-length movies that appear to have been broken down and updated in parts. Updates are unsure as to when they usually take place, so keep your eyes peeled for potentially new scenes. Rest assured, the updates do happen more compared to before.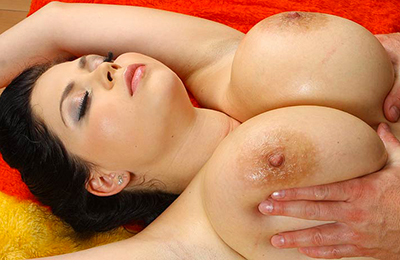 Conclusion
Yes, I would be recommending this site to those of you who are into, well, breasts. Huge ones. The video count is slowly rising but still quite low, if I must be honest. The site seems to be doing its best though, to keep the numbers rising. The video quality is superb and although it lacks a little bit, it still is an impressive site.