MyRaceQueens Review
MyRaceQueens
Price: $1.00 (3 day access)
The models are sexy in all that they do and as such, will give you every reason to seek their company. They are certainly the very best.
00000
My Race Queens Review
Site Overview
MyRaceQueens features horny models who get it on around the race tracks. MyRaceQueens is a hot Asian porn site that will promise you the best of Asian racing girls on their quest for satisfaction. The site delivers the best action on a silver platter. It boasts of outstanding Asian hardcore videos that will bring you the kind of pleasure that you need. This porn pleasure portal has lots of good adult action in store for you. It is a one-stop shop for any Asian porn lover.
Design & Features
When it comes to a list of sites that have a great layout and design, then MyRaceQueens has to be at the very top of the radar. The site is polished and ensures that you enjoy the content on its collection in utmost quality. Even before you kick off your tour, you will get to know that the site has a lot in store for you. Everything on your screen will look inviting and as such, you can be certain that you will indeed have a blast.
When you log in, the content on this platform is not all that will excite you. There is still a huge collection of bonus scenes that are all at your disposal. You will be delighted by all of the sexiness that the site has in store for you. You can be certain that there is a steady flow of updates that will meet you at your point of pleasure. There is always something new and exciting to look forward to. If you think that is the best part about your membership, then you will certainly be delightfully surprised when you find out that there is much more excitement begging for your attention.
The site's simplicity stands out and makes it very easy to get the part of the site that you want to. Although MyRaceQueens does not have any photos or screen captures, the videos will still get the job done. These flicks are straight out of Japan and as such, really complement the site's concept of entertainment. Each and every scene showcases a beautiful Asian girl in action. Every video page has a profile of 12 scenes. As such, you can jump through from page one to page seven, finding out what is available on each porn. The scenes on the site always use pixelization to veil all of the dirty. However, you will hardly feel hindered by this. The action is too hot to ignore and as such, you will feel like you are home.
Girls & Videos
The ordinary racing track is usually growing with hot guys who want to prove who can drive faster than others. However, MyRaceQueens offers you a brand new introduction to the race track. This one is dominated by girls who hardly care about driving cars and guys who want to fuck them. The site's title already lets you know the kind of action that is awaiting you on this pleasure portal.
All of the models are Asian girls who are not afraid to show their cookies to you. They are all about having fun and this is what makes them so relatable. The models also have an aura of mystery around them that will make you want to know what they are all about. You will be taken aback by their seductive bodies. Do not underestimate the Asians before you see them in action. Their faces are angelic and their asses are perfectly round. It looks like the creator took the time to mould them because they are perfection personified.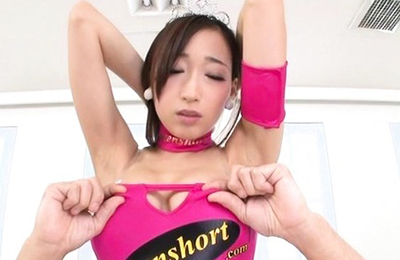 Conclusion
MyRaceQueens is a great site that shows beautiful Asian girls kicking ass on the tracks. The videos are on point and deliver the best hardcore content. In regards to the hundreds of scenes, there is nothing to complain about. The site has done a good job of catering to all members. All members also get access to 22+ sites that will treat them to a diversity of content. With so much porn, MyRaceQueens should be your favorite rest stop. It is indeed a great representation of the best adult action.
Enjoy the other best paid porn sites OR read more on MyRaceQueens from other popular review sites.