MyNNGF Review
MyNNGF
Price: $1.00 (1 day access)
As a member of the My NN GF you gain access to the hot movies of the sites of the network, offering you a rally varied entertainment. In case you enjoy amateur porn, this site will satisfy you, but with the huge DVD library at your disposal, you have the option to watch some professional stuff too.
00000
My NN GF Website Review
Site Overview
The site is four years old, and the updates come in batches, on an infrequent pace, so you can't know when they add new content. At this time, the MyNNGF has about 150 videos, and 1,300 photo sets – due to the non-nude nature of the content it's just expected that there are much more photos than scenes. As far as the exclusivity of the content is concerned, it's not easy to find information about that, but since it's amateur stuff mostly, we have to assume that the collection features mostly non-exclusive porn. You don't have to go far for extras.
Design & Features
It's just certain that you already met with some of the sites of this network, but if not, you still won't find the tour too surprising: it's a list of thumbnails, and no preview trailers are available. Menus haven't featured also, so you just have to use your mouse to scroll down. When you log in, you will find yourself at a simple, yet quite usable site. There will be a search bar, which can scan through the titles and the tags of the videos. Also, a menu appears, where you can reach the sites included in your account, and you may also browse the favorites' list, promo deals and of course, the DVD library.
As extra features, you have the option to rate the videos and comment on them. There is a fast Flash stream for online watching, and thought the resolution isn't great, these softcore videos are quite exciting. In case you prefer to save the porn you like, you can do so since you get unlimited and unrestricted access to the site's content. The photo sets are easily accessible from the browser, and you can save them too in zip format, so you can set up a hot slideshow from them with your favorite software.
Girls & Videos
Though the site focuses on non-nude pictures (and there are some videos), these are certainly very naughty chicks, who might not take off too much of their clothes, but they don't have much left on them either. As most GF-sites of this network, the MyNNGF also provides the members with a hot compilation of amateur pornography, and you can see how lucky other guys are to have so amazingly cute and sexy girlfriends like these.
It's hard not notice that some of these pictures are far too good to be real amateur stuff, so it's safe to assume that some content comes from big reality porn networks. These girls are varied, and though they are just fooling around, they show some very hot things to you. You can see here perky tits flashing from under that top, but some busty girls are also showing their nice shapes and nothing else. It might feel somehow refreshing to see hot girls not fully naked, and the fact that they smile a lot also makes this collection tempting.
So far, the site has shown a great collection to us, with highly varied girls. Since it's a girlfriend site, you can expect to find here mostly models under 25 (usually under 20 though) which means that some very hot bodies are featured and shown for your entertainment. Most of the girls are Caucasians, but their ethnic hotties too: for example, you can find here booty-mistress Latinas, and also, some kinky Asians are happened to appear, and though they are not shown on the tour page, Black girls are also featured. It's a complete collection with a large selection of hot girls to see. The motion picture is not the main medium here, the majority of the collection – that has the most to show – is in the photo gallery.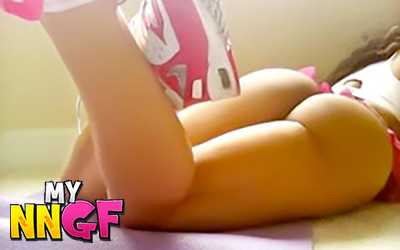 Conclusion
As far as nastiness is your main concern, you can rest assured, there are nasty girls in these videos, and though they are not necessarily taking on large cocks or perform any kind sexual activity, they are still going to blow your mind. Since it's a non-nude porn site, we recommend it mostly for those who enjoy viewing pictures of hot girlfriends. However, if you are looking for actual porn, you should still consider joining, because the network access is something that you will surely appreciate.