HellofBDSM Review
HellofBDSM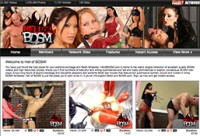 Price: $1.00 (2 day access)
The site offers all kinds of subjugation, domination, submission, masochism, and sadism content to truly match up to BDSM expectations. The site has an extensive BDSM content galore.
00000
Hell of BDSM Review
Site Overview
Are you the type that loves a combination of kink, naughtiness, and a bit of crudeness in an exciting porn mashup? BDSM is where the crazy nasty stuff happens and Hell of BDSM offers a heck of delivery on that. The models featured are really hot, especially when dishing out both extremes.
Design & Features
The content is divided into videos and photos. Obviously, I started with the videos. Each page has five scenes on display along with three preview pictures. Each picture has a pretty good description that can get you in the mood to see some action in the videos. When you click on a video, it is divided into six scenes, which should enable you to download a specific part of the action. It is also possible to download the entire video if you want. The playback quality is about 640×480, which is pretty good. The site has a sizeable collection of galleries and each set has about 100 images each. The selection of images is easy with big thumbnails. The quality of photos is, however, disappointing. The size is 1000px with average lighting. The pictures don't match up to the quality of videos.
Girls & Videos
Hell of BDSM mainly focuses on female domination of men. There are some scenes involving guys sucking dildos coming straight out their ass. The guys know how to take on that long hard strap on straight through their tight holes. Other BDSM actions include cuffs, leather, spanking, whipping, rope, cbt, fingering, verbal attack, ball gags and some light caning too. The listing of videos appears like they were taken straight out of DVDs. The videos come with picture galleries. The site has just over 20 BDSM videos which are pretty shallow, but the pleasure in them is fantastic.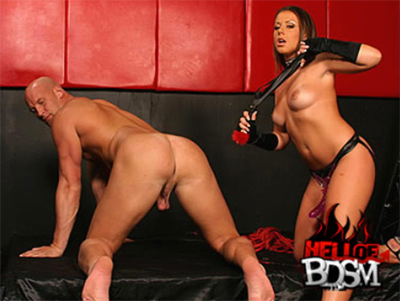 Conclusion
As much as the site tries to live up to its name, I still think 'Hell of BDSM' is not an interesting name for a porn site. The BDSM scenes are hot though, and that is what we are most interested in. The bonus site should help in the quantity of content.