FuckingAwesome Review
FuckingAwesome Network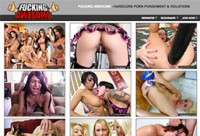 Price: $1.00 (1 day access)
The FuckingAwesome is the name of a network, made up from hardcore porn sites that cover a wide range of niches, and feature some really stunning models. If you are looking for heavy sex with kinky and rather dirty elements, then this network is for you.
00000
Fucking Awesome Network Review
Site Overview
There are regular updates network-wide, so you always get something to watch. There are tens of thousands of movies here, and if you are looking for professional and amateur porn at one place, you will find it that your needs are fully met here. Apart from the site's dedicated content, you gain access to third party feeds and a large collection of hardcore porn DVDs.
Design & Features
The site has a neat search engine built in, which is a great plus because the whole inner section looks very simple. The content is tagged with categories and apart from the search option, you can choose a category and list the videos that feature it. Also, there is an advanced search page for you. The menu is usually under the logo of the site, and depending on which site you are browsing it have more or fewer options than the other. As a feature, the site lets you build up a favorite's library. There are also some bonuses: live chat, bonus feeds and huge DVD library.
Each site of the network features videos in online and in offline formats. This simply means that you can watch them streamed into your browser, through an FLV stream or you can save them in various formats. Some of the included sites offer you WMV files, but in most cases you can save the movies and the flicks in MP4 format. They will be on your hard drive soon, and you can build up your collection easily. There are video-only sites in the network, but if you like to watch sexually explicit pictures, just don't give up yet. There are sites (the FUBILOV for example) that offer a good collection of photos and video captions, available in zip format. The FuckingAwesome is mobile-ready too.
Girls & Videos
Don't expect to see them in normal hardcore sex, because what these girls perform is everything but not normal. As for their bodies, you will see it for yourself that there are big fake tits and neat medium or even perky ones, and the overall appearance of the models is just as you would expect from a porn star. On a site within the network, you can find the amateur content too. This means that you will gain access to a large collection of home-made porn, which will only grant you the great variety of models you seek. That site (the FUBILOV) features mostly the girlfriend types, so you may enjoy the videos of amazing hot cuties who are doing the nasty all the way they can. Their body is still natural, and apart from some lips enlarging, they don't do any cosmetic surgery.
Also, there are not just girls here, because two sites are dedicated to transsexuals, so if you have a crush on shemales, you just have what you are looking for. You can watch hot trannies masturbating, and there are hardcore videos with two t-girls fucking one guy. The videos of the FuckingAwesome network are truly varied. You will find on the sites studio-made porn and amateur porn. When it comes to heavy hardcore porn, you can mostly enjoy videos that were made in porn studios. It seems that the FuckingAwesome has content from 3rd party studios, and it doesn't produce them in-house; this is why you might recognize the models. Now, these videos might be scripted and staged, but they are dirty. Just to mention a few examples of what niches they cover: cum-swapping, usage of machines, transsexual porn.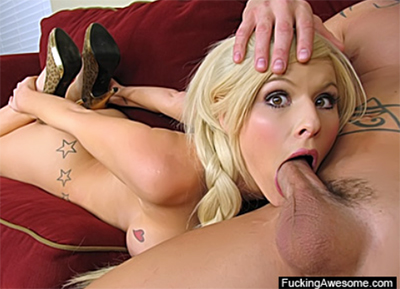 Conclusion
The FuckingAwesome is not a new site-family, but it offers a large collection of porn for everyone who is seeking hardcore sex in various forms. Since the sites here cover heavy hardcore niches, the network is only recommended to those who like to watch videos that cover niches like gagging, gang-bang, cum-play or transsexuals. However all hardcore porn fan should enjoy the collection of amateur sex on the dedicated site. The membership is well worth it, because it offers you access to some really heavy hardcore content, and though some of the content is not exclusive, the FuckingAwesome has a unique compilation.