BrutalX Review
BrutalX
Price: $1.95 (1 day access)
We really enjoyed the porn site BrutalX and we recommend it to everyone – even those who don't enjoy watching the niche of rough sex in particular.
00000
Brutal X Review
Site Overview
The site is aptly named BrutalX, and there is no wonder that their videos are amazing because the porn site is also a part of the awesome adult network Dirty Flix. We even say that it is awesome because we have tried and tested this porn network already. We are already fans of their other porn sites like Fucking Glasses (where you get to see really hot, intellectual-looking chicks in glasses get fucked), and Private Casting X (where they operate with the premise of inviting girls, promising them that big break in the world of modeling, only to attend the fake casting and get fucked real good), and these are just two of them.
There are other porn sites in the network that we have not explored yet, but we are sure that we are going to enjoy them as well, and so would you. In any case, this is not going to be a problem anyway because by just signing up with BrutalX, you will already get full access to the other sites within the Dirty Flix porn network. So let us move on to the membership details right away! There are three different membership plans for you to choose from: one-month membership, three months membership, and finally, a one-year membership. According to the porn network Dirty Flix, their most popular option is still the one year plan because it allows you get a big discount, which means more value for your money. After selecting the plan you like, you just need to enter your email, and that's it. It is one of the simplest sign-up forms we have ever experienced.
Design & Features
One thing that we have immediately noticed upon landing on the homepage of the porn site is its simplicity. It is black themed with red accents, but that's it. You are not going to see any flashy banners here – just the thumbnails of their latest videos. However, it is important to mention that the thumbnails that you are going to see here are impressive. One can see the quality of the videos that they have. And we are not surprised because BrutalX is the first porn site that we have encountered to have the advanced technology called 4k ultra-high-definition.
The 4K quality is even better than the usual full high-definition videos that we see in other premium porn sites. That amazed us, and we can totally see the difference. In fact, some of the guys here even claimed that once you watch a video with this type of quality, there will be no turning back. Your entire view of full high-definition videos will change, and more so for the regular videos that are not even shot in high-definition, and maybe they are right because 4k ultra-high-definition is freaking awesome. The clarity and color that their videos have can never be compared with other sites. Hence, with that, we give you two thumbs up!
Girls & Videos
And now, let us move on to the exciting part of this review – the pornstars. We mentioned a while ago that we were blown away with the pornstars that we have found here on BrutalX, and let us tell you the reasons why. First, the male pornstars here are masculine. There is something about the guys here that can put other male pornstars from other porn sites to shame. We have already seen buffed guys elsewhere, with biceps even bigger than the men that we see here, but somehow the men here on BrutalX look tougher – and maybe it's because of their female costars. As for the females, they are also pretty tough themselves, which make their videos more exciting. We don't know about you guys but rough sex is not at its finest when you have meek girls in the scene or sluts who totally deserved to get fucked roughly. But the girls here are intense.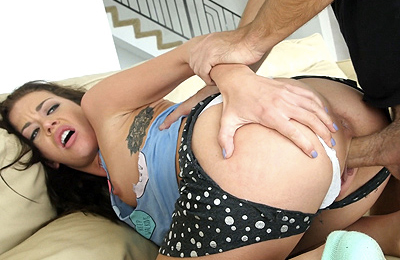 Conclusion
We believe, with the beauties of the women here, along with the creativity of the scenes, plus the 4k ultra high definition quality of their videos, BrutalX can truly convert anyone to appreciate this kind of genre.