BlacksOnSluts Review
BlacksOnSluts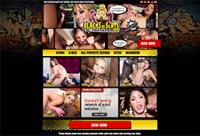 Price: $1.00 (2 day access)
You can watch slutty Caucasian porn stars going black, and though many of them never came back, the action is amazing and hard.
00000
Blacks On Sluts Review
Site Overview
Before getting to the review, we have to tell you: this portal has a lot of professional porn videos, and it also has even more, as it's part of a network, ensuring a load of porn, and some great variety. And all this comes on video, on pictures, and everything you can see here is exclusive. So, what does this site promise? It says you can watch slutty Caucasian porn stars going black, and though many of them never came back, the action is amazing and hard. The BlacksOnSluts launched in the year 2013, so it's almost four years old. In the past years, it has been on a roll, and now it offers the viewers more than 200 hardcore interracial sex videos, with the hottest porn stars around.
We found only one not oh-so-great point at the site: its update schedule is inconsistent. Sometimes there are two-three flicks added a month, sometimes we have to settle with one, or even zero scenes. It's not a big issue because they keep on adding new videos at least, so there is no rotation, re-uploading or frozen collection. If you masturbate your way through the collection (which takes a few months even if you watch two-three, or more scenes a day), you will have to wait for the new scenes. However, there won't be any dull moments.
Design & Features
The home page of the BlacksOnSluts looks good, and it has everything tour page needs. There is a big banner on the top, followed by the menu, then the list of scenes. You can browse through a few pages of this videos' list, and there are three preview opportunities. Choose well, and you can see how nasty and hard the action on this site is. After signing up, you can log in, just to find yourself at the center of the Private-universe.
You will have to locate the Sites menu at the main menu bar, then choose BlacksOnSluts from the menu. Then, you are ready to roll. Though the content is real hardcore, the site uses a bright white-green color theme. If you've found the menu, you've found the main navigation tool, although there are categories and a search engine too. As one might expect, there is a models' database with all Private hotties.
The videos are available in the streamed format: the lowest resolution for online viewing is 480p, but you can set it to 720p and 1080p if your machine can handle it. The playback is smooth, and with a good bandwidth, you won't even see it buffering nor lagging. Every download option is located under the player window, and depending on the age of the video, you can select from 480p to 1080p. On some of the network sites, you can even obtain 4K porn, though for the interracial niche, the Full-HD is best at the moment. Photo galleries are featured too, with the usual options.
Girls & Videos
The models in the videos of the BlacksOnSluts are professional pornstars. There are some fresh girls too, but we wouldn't believe that they are amateurs. Not for a moment! However, they are gorgeous, and no matter how experienced they are, they have a good and hard time to take those big cocks in. Though the collection covers mostly Black guys on Caucasian girls' action, there are scenes with Latinas, and in a few cases, Black girls get banged by Caucasian guys. It looks like the Europeans have a fondness for anal porn because almost every video of the BlacksOnSluts covers this type of penetration.
It's very hot to watch (in HD preferably) as the girls get licked, fingered, pussy fucked, then they get that big schlong in their butt. There are heavy scenes with two or three guys, double penetrating the girl they have at their disposal. The basic niche of the series is hard, but they give it some more spice too: the girls get pussy fucked after the anal sex, and they often have to stand the ass-to-mouth action. This collection is great, hardcore, with quite long videos, granting more than 20 minutes of fun.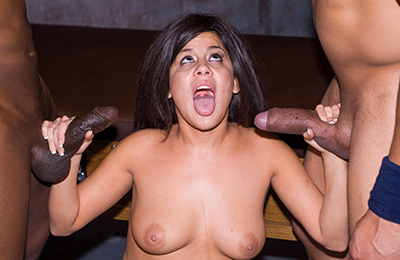 Conclusion
When we learned that the BlacksOnSluts is a Private series, we were awed, and we got our hopes high. Well, we are far from feeling disappointed! Apart from the unscheduled updates, the collection here is amazing. The sex is real hardcore, the videos are all captured and performed in a professional manner. With the kinky niches related to interracial sex and anal sex, these shots are truly hard to the core. Don't forget the bonuses: all Private sites for one's price!
Check out the other porn paysites OR enjoy more on BlacksOnSluts from other popular review sites.