ThirdWorldShemales Review
ThirdWorldShemales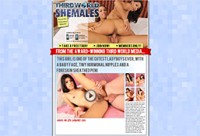 Price: $29.99 (30 days)
ThirdWorldShemale is advertised as exclusive and that is exactly what you are getting - nothing more, nothing less. Actually, there is more.
00000
Third World Shemales Review
Site Overview
The site was launched in August 2011 and has since been winning awards from different nominations; it also has been recognized by plenty of websites, magazines, and shows. You could say that this site right here is royalty and only few could compete with its wonderful features and content. Grooby Bucks sure knew what they were doing when they presented ThirdWorldShemales to the general public. If I must add, once you step inside here, you will know just how it is not the third world. Brace yourselves, first-class shemale porn is coming to you.
Design & Features
ThirdWorldShemale is a pay site so you will need to register as a member before you can access any of the given features in here. This includes choosing a payment plan, picking out a username, a password, and choosing what membership you like. If you have finished that, then you will not have to worry anymore since you are now able to access every single thing there is in here. With your membership, you can fish out plenty of great and amazing content. You will be even happier when I say that every single thing here is exclusive, meaning, the only place where you will be able to see both videos and photos is the site itself.
Amidst the bevvy of sweet, tight assholes, you get a simple site design that matter of factly accentuates the easily understood navigation. The navigation is easy because you only find and see the most important links here. Yes, every single thing here is presented in a very straightforward manner. The user interface continues to be accessible and user-friendly, bordering on feasible and wieldy. The site is arranged in an orderly, neat manner, so you will not be overwhelmed when it gets a little crowded. Of course, even if it is a little crowded, you will still be able to notice how things are so neatly piled in here. The site currently owns 400+ photo sets, all of which you can download in zip files, or saved individually. Each photo set has about eighty to a hundred individual photos, all in hi-res and all beautifully taken.
Aside from that, you get a model index, but instead of full-blown information galore, you get their photos, their names, a little description, and a list of each of the shemale's videos. Yes, you do not get an individual page for the videos, but you will get a model index and from there, you can choose the shemales you like to watch – there, you can find all the videos she is starring in. Unique and makes it easier to find things since there are no sorting or filtering options available. There seems to be an advanced search bar and a pagination link, but with how things are put up here, you will not need the two so much. You may rate the videos or add comments on them for feedbacks. Other people can read these and it does help if you leave constructive stuff. The same applies to models – you can rate them. This helps also.
Ladyboys & Videos
The videos here are made to cater to people who are into shemale porn. Of course, it does not just stop there. The site is great at making hardcore sex scenes and solo masturbating scenes. The shemales here come from all over the globe and right now, there are 350+ models in the site. The scenes or videos can be streamed in your very own browser or you can opt to save it in MP4 or WMV format. Both options guarantee you a great 1280 x 720 pixel resolution. Far better than most porn sites out there. There are no download limits being implemented here so you can download however you want. Each of the ladies engages in perfect hardcore or solo scenes and it is hard not to get hard. Updates are frequent and just this week alone, 4 new videos were added.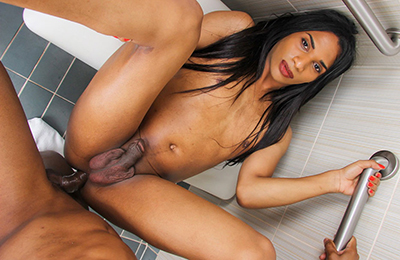 Conclusion
With the growth of this used-to-be-little porn site, I can say that I am totally recommending to everyone out there who loves transsexual porn. The quality of the videos is always great, and the content count is on the rise. If ever you are into new adventures or you simply like gawking at shemale porn, then you will absolutely love this place.
This site is no longer updated. For similar content, please go HERE
Enjoy the other best paid porn sites OR read more on ThirdWorldShemale from other popular review sites.