SophisticatedFlashers Review
SophisticatedFlashers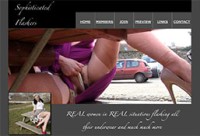 Price: $19.95 (30 days)
On Sophisticated Flashers the excitement is wound around stature and exclusivity. They are the real trophy hunts for both men and women with a burning desire to get down with a sophisticated model.
00000
Sophisticated Flashers Review
Site Overview
Sophisticatedflashers is a reality lingerie show porn site that exploits the desires of people with a taste for up-skirt flirting from women of high standing in the community. The site features amateur girls with uptown mannerisms. They are attractive women in their prime years. They are drawn from the top class and career circles.
Design & Features
The site provides users with an image of class and sophistication right from their landing page. I love their deep-blue color that notifies you of entry to a sexually charged zone. There is a clear outline of what you should expect under the covers. Your navigation is made easier by the fact that there is a clear index that leads to the performances of each of the models on the site.
The layout is plain and clear. I love the detailed description of the models that accompanies each caption. You will easily access this site because it has been optimized for mobile access. It is fast, responsive and accurate. You get what you are promised whenever you click on a link. I was also able to stream their content without much ado. The files come in a range of formats and can be downloaded too. All content is presented in crystal clear and crisp definitions. I love their HD videos and the crisp images that present the models as if they are right before your eyes.
Girls & Videos
They all have a detailed grasp of what titillates the men and women of class and high standing. They exude elegance in the way they dress and pose. They are unperturbed by the camera people when they are bent on showing you a little of what lies beneath. Meet my all-time favorite: Masie. She is one of the most outgoing sophisticated models on the site. She has a knack for sensual lingerie. Masie goes out on the road and decides to show off a little of her endowments. I need to warn you that she has some of the sturdiest and juiciest looking boobs and bums in town. In fact, she does not hesitate to grant you a full view of the former as she drives around. She uses her sexy body to tease traffic. She, at some point, decides to flash her expensive lingerie to the lorry and bus drivers. She stops and allows you a great up close view of her pussy, cherry and even the pigeon hole if you focus your eyes and look close, and long enough.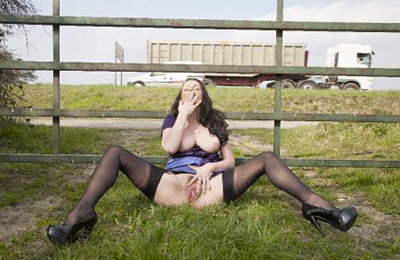 Conclusion
This is your ultimate site for porn flashing entertainment. If you love to watch classy women get down, you have a treat right here on Sophisticatedflashers.com. There are few reasons to complain.
This site no longer exixsts. For similar content, please go HERE