PureSmothering Review
PureSmothering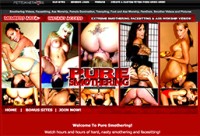 Price: $39.95 (30 days)
The website in itself is exactly what you have been looking for, most especially if you are a smothering enthusiast.
00000
Pure Smothering Review
Site Overview
How much do you like getting smothered? It does not matter what your answer is because, on PureSmothering, all of your dreams and fantasies are about to be taken to an extraordinary level. Taking BDSM much further, this site will most certainly take your breath away and you will enjoy every second of the domination of the smothering porn that is showcased in these pages of pleasure. If face sitting, ass smothering, and squatting are things that catch your fancy, you will appreciate this adult site for all that it is worth.
The models do not seem to care much about their partners, their number one priority is pleasuring themselves in any way possible and they do it exceptionally well. They will deeply gaze into your eyes with stares that almost pierce your soul and bring upon you more than you can be able to handle. The site has a way to take you to cloud nine and back. If you are lucky enough to find a model with silicone-filled extra-large tits and other bodily assets that could only be spoken about, then PureSmothering is about to become one of your favorite adult sites. If you wished that tits and asses are all you could breathe instead of air, then this is the perfect place for you. Well, the smother-loving men on PureSmothering do not seem to mind that their air supply cut off. Although they struggle to breathe, they beg the horny-crazed models not to stop because the pleasure that they are getting from this platform is too hot to handle.
Design & Features
PureSmothering has a member's area that will keep you interested for obvious reasons. The site believes in keeping it simple and the tour is a true testament of that. Just like on any other adult site, you will first be able to enjoy the recently updated videos. The site has an inconsistent update schedule but in counting, there are 33 recently uploaded flicks. This shows you that you will be a very busy site member.
There are a variety of download formats including MP4 and streaming, thus it is up to you to decide which one to go for. However, the screenshots on the video page will ensure that you make only the most entertaining decision. The descriptions are well written and you could not ask for more in regards to this. The site has decent download speeds and you will not be complaining about this. The videos capture galleries are also quite interesting. The top rated video schedule will be your starting point. This way, you can judge the site at face value.
Girls & Videos
If there is one thing the models on PureSmothering are talented in doing is sitting on their partner's faces and demanding for them to eat their pussies until they cum. They do not have any mercy whatever towards their partners, instead, they only have their selfish interests at heart. At all times, they are dressed in sexy costumes that let them treat their partners to a strip tease. They are so effortless in relieving their bodies of the lust that they feel. As they do, they will leave you stuck between a rock and a hard place; you will be stuck in the world of lust.
The women differ in their physical appearances but they all have the same sexual preferences. Some of the women have tattoos on their bodies while others do not. A few of them are curvier than the rest. They sit on their partners' face and get their pussies eaten by all means possible. Then it leaves us wondering if they are highly hygienic 'down there', otherwise, we would have mixed feelings about these sexual encounters. Assuming that they are obviously clean, we are sure that those guys are enjoying the feast. The action is all about smothering, face sitting, ass worship and female domination. The models love trampling on their partners, the female domination here is out of this world. The guys have a big appetite and they do everything to make their partners cum. In some instances, the models feed their partners food from their pussies. Yes, they make the action this hot.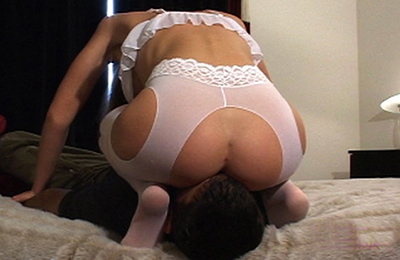 Conclusion
PureSmothering is the kind of site that brings you great porn when you least expect. Membership comes with access to 30 bonus sites in the same fetish genre. Therefore, you will be treated to more smothering than you can handle. The models are dominant and they will let you know about it. The site is simply good enough for pleasure.