GameForGay Review
GameForGay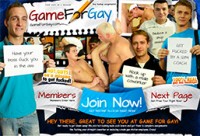 Price: $0.95 (1 day access)
The game is simple, the rules are transparent, and most of all, the guys are up for every single thing given to them. With great quality scenes and good content count, GameForGay is gay a site hard to beat.
00000
Game For Gay Review
Site Overview
GameForGay is one of the nicest sexy gay porn sites to enjoy most especially if you prefer one that has a bit of a challenge to it. That statement sounds odd but it does exist since GameForGay is all about such. The site is all about a bunch of gay guys who receive an assignment each wherein they have to find a straight guy and get him to have sex with them. These fun loving gay guys then will have to pick someone whose description fits their assignment and then the game begins. Luckily, their prospects are always up for anything and what happens after is what I would consider raw and hardcore. GameForGay was launched in late August 2012 and has been gaining recognition ever since its launch since the category they opted for is rather unique and rare. This genius porn site, managed by Sultan Cash, is one of the top gay porn sites out there.
Design & Features
GameForGay has a lively site design that exudes energy and playfulness. It fits the theme of the site and it looks really good. Despite the frolicsomeness personality the site has, it still manages to make things easy around in here. Take for example, the navigation here is easy to manage. It is also very simple to understand. The site interface is straightforward and beneficial, while the overall structure of the site is well organized and kept. Also, the site features are satisfactory and despite the low content count, you still get to do plenty of things around here.
The site has 20+ photo sets that contain around 300+ hi-res photos inside. Some of these seem to be professionally taken while the rest are stills from the video it represents. You can download these photo sets in zip files, save them individually, or view them as it is in your browser via slideshow method. Either way, you get to enjoy these in great quality. The site also allows you to rate the photo sets as well as the videos. You may add comments on each scene for other members of the site to see.
Although there is a model index, it is far from being complete but you do get the right names of you the models you prefer and you also get to see their portraits. Browsing in here is quite easy because you can use a couple of search tools like the advanced search bar and the categories toolbar. You can also search for content using their dates and titles. Everything you see here in GameForGay is exclusively found on their site and you will not be able to find them anywhere else.
Boys & Videos
With 20+ videos on their site, you could say that GameForGay's collection is not too big but their updates have been going frequently, so I guess it just is a case of being inconsistent. The scenes are really hardcore and the plot you will face here is unique in a lot of ways. With GameForGay, it is all about the assignments these gay guys get. They are to hit on a straight guy and if they manage to get into bed with them and have a full on fuck session, then they win. I am not so sure about it being staged but it looks real to me, and although I would consider it a miracle how all these straight guys seem to say 'yes' all the time.
I enjoy all the hardcore intercourse I see here so I have nothing to complain about. In here you will find all sorts of erotic blowjobs, some real deepthroating scenes, a lot of rim jobs, and a whole lot of ass pounding. All these are presented in decent quality and it may depend on what option you are aiming for when trying to view these scenes but they are all pretty good.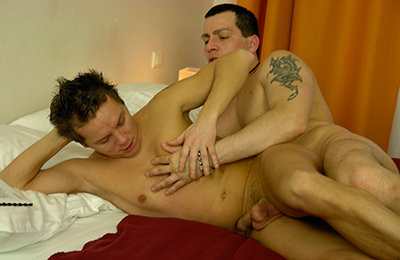 Conclusion
Kudos to the people behind this genius porn site because they have totally made something that you will not find anywhere else. Also, the qualities they present their videos in are superb and their site features are truly convenient and helpful. Overall, GameForGay is a place that I would most indubitably recommend, especially if you want something a little new. GameForGay is great in a lot of aspects and you will never regret having stepped in here.
The site is no longer updated, for similar content have a look HERE.