ClubTug Review
ClubTug
Price: $29.90 (30 days)
With plenty of development and different elements to complement the handjob action, Club Tugs' producers knows how to shoot an sexy scene that has many to offer without losing focus of the main product, the handjobs.
00000
Club Tug Review
Site Overview
Handjobs are often displayed as secondary elements in porn scenes. There is no much focus in the mainstream porn, as the hardcore action follows a fast-paced action that portraits mainly anal, oral and vaginal penetration. Therefore, tit jobs, handjobs, feet jobs and other sexual activities have the little attention of the adult industry, with most of their material being provided by specialized branches of niche studios. A neat example of these sites is Club Tug, which mainly focus handjob, exploring the excitement in receiving this simple yet pleasuring kind of love. The site was launched in 2009, so credibility is no problem for Club Tug. There is some cool stuff hidden here, let's see what Club Tug has to offer.
Design & Features
Scenes are easy to be sorted so that you can browse easily using tags or exploring the categories and model names. The model tab is organized alphabetically, that way you can find your favorite girl and see all the scenes they have performed. The videos are in mp4 format, with a resolution of 1280×720 and 720×480, ensuring you can fit them in your HD if you don't have much extra space. The material is exclusive and sums more than 319 individual scenes and a gallery of pictures for each one of them, capturing every single highlight of the action. If you need or prefer to use your mobile device to access the internet, Club Tug have an exclusive mobile friendly interface that can be seen by smartphones You can even have a quick preview of what the mobile site looks like on different devices, maintaining the proportion of images and securing the best browsing experience, no matter what device you will use to access Club Tug.
The "Create a Scene" feature can enhance even more the intimacy of the scenes, making them just as you fantasize. Making a quick or profound description of a setting and concept of a scene you have in mind, you can send the producers your ideas, so they can check out if they are interesting and making an especially made video that will display in the member area.We all like free content and nice deals. They increase the products value and makes sure our hard money is put in the best investment possible.
Making sure to get your attention, Club Tug joined a network of adult sites that explore peculiar niches, turning their product more attractive and increasing the content offered to members. With this deal, eight extra sites have their material at the disposal of Club Tug's members, with a total of more than a thousand exclusive and unique videos, performed by over four hundred different girls! One of the most interesting sites included in the deal is CumBlastCity: A neat site about massive cumshots and messy facials. There are quite a lot videos and images here, collected since 2009.
Girls & Videos
The videos explore different settings to make things fresh and new, each one with a peculiar element, such as multiple girls, some sporadic and sensual blowjobs to lubricate the dicks, tit jobs to spice, even more, the handjob and some competition between the girls to manage the cock. Even with these elaborate elements and different settings, the videos duration is as brief as a normal handjob would be, with approximately 10 minutes each one. This doesn't spoil the quality of scenes, as the great array and situations are developed at a fast pace, making the handjob action the focus.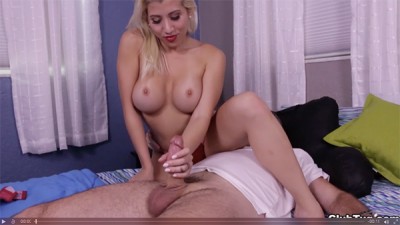 Conclusion
From newbies and amateurs to MILFS, Club Tug got us a nice collection of sexy girls, making sure they use their best skills in their performances. If they have huge tits, they'll make quick tit jobs, if they got a nice ass, the girls would be sure to make the camera capture it. The offered deal, nine sites for a single membership, makes really difficult not to become a member, aggregating, even more, value to the Club Tug and its partners. With so few studios focusing handjobs, Club Tug tries to take the lead, and their features and constant updates will surely make members happy for a long time.