BrutalCastings Review
BrutalCastings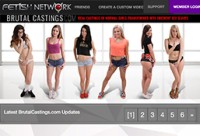 Price: Free (2 day access)
This site is worth a visit as they got a good collection of fantastic porn movies. The site audition-style theme will satisfy every fetish porn addict.
00000
BrutalCastings Review
Site Overview
A lot of people crave the limelight, but there are some who will do anything to be a star. The desperate wannabe would do anything and everything to be known like ditching their friends and families, lose their integrity and even sell their souls to be rich and famous. This is because it's not easy to get there and you have to start somewhere. And if you have to start somewhere, why not at BrutalCastings. The site theme centers around the entertainment industry, specifically on delightful fresh faced girls who would do anything to get a shot at stardom. Set in the office of a supposed modeling agency on the lookout for a fresh-faced girl. This modeling agency invites ambitious girls to impress the casting director in any way they can.
Design & Features
The site has a simple but very effective design. The site design is effective even though it is very simple as you can navigate the content quickly and easily. Bear in mind, it also has the necessary features that will make your time on the site a pleasant experience. From the look of the homepage, you would know that this site is serious in delivering not just quality content but a whole lot more. As said earlier, this site is providing high-quality movies. In fact, even when it is just starting and still pretty new the quality of the movies is already good. This is because all the movies are in High Definition in 1080p frames. So, expect clear and sharp images whether downloading or streaming in MP4 format. That is right! You read it right this site also offers streaming option without any issues with quality.
Aside from the HD videos, there are also photo galleries that you can browse in slideshows. Each scene comes with photo galleries in 1920px images that you can also download in Zip files. By the way, the shooting styles are not inventive or exciting but still worth your membership as the images have good lighting and sexy views of the action scenes. In this site, you can expect updates, but it doesn't come regularly. Thankfully, you won't notice the time before you get any updates since you also get access to other websites. As a member of BrutalCastings, you also get full access to 45 websites under the FetishNetwork. The full access to the whole network collection of websites gives you more movies to enjoy. Some of the sites you can access are Whipping, LezBondage, RoughSex, and BrutalPickUps. Take note, each site deals in different fetishistic porn niches. That means you get to see different kinky fetish porn.
Girls & Videos
The site is loaded with porn videos of delightful, fresh-faced girls that would do anything to make a career in modeling. These pretty hot wannabe models are persuaded, coerced and some even required to be viciously manhandled by their casting directors. If you are into hot beauties, rough sex, choking, and other forms of entertainment, then this is the site for you. As mentioned earlier, this site has a good collection of videos that you would enjoy watching. There are many exciting scenes that would make you rock hard.
All of the movie collection feature amateur pornstars. But, some of the newbies are awesome like Rachel Madori, Alaina Kristar, Marsha May and Kacey Quinn. These girls have proven themselves to be outstanding performers with bright future ahead of them. And the girl's amazing performance means only one thing, BrutalCastings has done its job well. When you log into the members' area, you should check out Kacey Quinn's video. This lovely dark haired model got the shock of her life when she auditions to be a runway model. It is her dream to be the next Kendall Jenner, but her tattoos and height are ruining her chance. In desperation, she agreed to strip naked in front of the casting agent. But, things got a little bit out of hand when the director loses his patience and grabs Kacey roughly. She was required into BDSM, rough sex, finger fucking, and total submission. The rough sex scenes are a must see for every fetish porn addicts, especially by those into degradation and exploitation.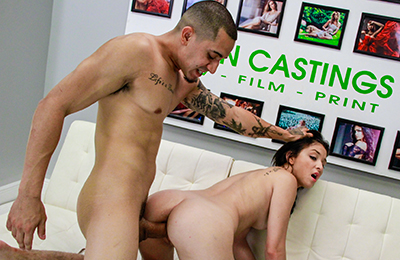 Conclusion
Once you become a member you also get full access to the entire FetishNetwork, wherein each site offers something different for fetish enthusiasts. At BrutalCastings you get awesome HD videos and clear images that you can download or view online. BrutalCastings has plenty to offer potential members, making it worth recommending.
Look at the other top pay porn sites OR read more on BrutalCastings from other popular review sites.