BangMyStepmom Review
BangMyStepmom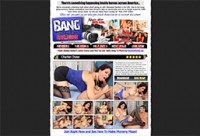 Price: $1.00 (2 day access)
If you don't mind the origin and focus on the content itself, you will find this site to be one of the best portals for hot MILF porn, covering the stepmom-stepson fantasy, in a quite excellent way.
00000
Bang My Stepmom Review
Site Overview
This portal is a niche site from the guys at the PimpRoll, and it focuses on hot hardcore sex between claimed stepmom and stepsons. It's professional pornography, and though the site claims its real amateur footage, by just looking at the photos you can see that it's just said for the fantasy. The BangMyStepmom offers you a fine selection of hardcore porn, and when you become a member, you get more than you could've hoped for in the first place.
This site launched in 2008, and it was a site for the Massive Access network of portals. Nowadays, the network doesn't exist under this name, but the network access still yours if you join, which means that you get more than 100 sites for one's price. In the first few years, the site had been updating on a semi-regular basis, but after a while, new videos had stopped to come. Apart from the videos of the network, you are going to get a significant number of DVDs too. There are about 9,000 DVDs in the archive of the company, and though some of these DVDs' scenes are available on the sites, there are thousands of unique scenes for you to watch. This partially exclusive collection is huge, and if you like the variety, it's highly recommended.
Design & Features
The BangMyStepMom looks nice, however, this design is conserved as old-fashioned nowadays. Nevertheless, the pictures and the scene descriptions will tell you all the important information you might need to know about the site's scenes. You might also take a look at the models' list (but not their profile). In the members' area, you are going to find a few menu options, both for site navigation and for network navigation. A very basic search engine will help you get to the content you might be interested in, while the categories list might be helpful if you are looking for a niche in particular. It's very easy to switch to another site, so if you need a different kind of action, you can easily access it.
The videos are coming in several formats. The most recent flicks are in HD, while the oldest ones are offered at 480p, though, from the higher end. You can stream the videos in the browser, and watch them without downloading, while you may also have the option to grab the hot MILF of porn scenes of the site and add it to your MILF collection if you have any. If you don't have one, then the site provides excellent material to start and build one. The HD videos are in MP4, the older ones are in either MP4 or WMV.
Girls & Videos
The BangMyStepMom has some very hot MILFs for your entertainment, and if this niche and this type of woman are what makes you hard, you are going to love what you can find on this portal. These ladies are all professional porn stars, and as you will see, they know how to handle their partners and make them hard and happy. You will find out as soon as you open a page on this site, that the models are all over 35, and it should be safe to say they are usually closer or over 40 than they are close to 30. This makes them more exciting, and since the stepmom fantasy and MILFs is a very hot niche still, you will certainly find these ladies worthy to jack-off to while you watch them fuck.
As far as we have been able to decipher, the models are all professionals, and there are Caucasians mostly on this website. Never mind, the collection is pretty great on its own. We were a bit surprised to see how many fake tits are at play here, that's not exactly what we expected to find here. But, since those are here, we are happy with them. In case fake and busty is your fetish, these MILFs are going to make you cum hard with those big fake tits they have.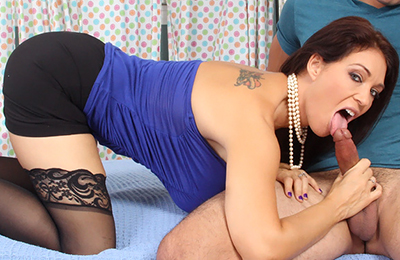 Conclusion
The BangMyStepmom is not a bad site, though it could update more often. We have found a few dozens of hardcore scenes in the members' area, and though the site claims they are exclusive, most of this content is available on DVDs. With the network access to the huge pile of porn sites, the membership is worth it.
The site is no longer updated, for similar content have a look HERE
Don't miss the other top paid porn sites OR more on BangMyStepmom.